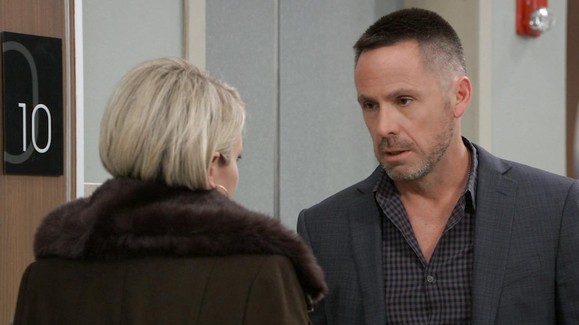 General Hospital fans would like to see things get better for people around here, but we don't see that happening. Right now, Spinelli is back and trying to help out find out what is going on and how to stop it, but things are taking a turn for him. He's been back a hot second and he's already getting advice he neither wants nor needs, and he's not a fan. We still think that he and Maxie have a future even though they are not our favorite couple. They were awkward when they were together in the past, but we are team Spinelli when it comes to Peter being the other option for her. We are still convinced she's in the know about Peter and his plans and she is working slyly to take him down on her own for all that he is doing and has been doing lately.
Stella has decided she needs to see Curtis, so she's here to visit with him. She's not happy with the many things that are going on, and she needs to see if there is a way to make things better or more effective in their lives. She's going to get some answers from him, and he will not be able to hide those. Jordan is not happy. She's beside herself, even, and we get it. She's been warning people for months, they are all coming at her now, and she's not thrilled with any of this. There is a big mess going on right now, and she's not having it. Then there is Michael, who is amused. He is in a weirdly happy place in his life right now, and he is doing a great job of taking things in stride and handling them quite well. We are proud.
What's Happening on General Hospital
WATCH: Trina is less than thrilled to see Curtis at her father's memorial. #GH pic.twitter.com/lAcCgqvbfI

— General Hospital (@GeneralHospital) March 11, 2020
Why would she be?
What's Next on General Hospital
"It was right in front of me and I refused to see it." #GH pic.twitter.com/vJlpiXrwHv

— General Hospital (@GeneralHospital) March 9, 2020
Michael and Sasha have been growing very close for months now, but that is changing a little at a time. For one her deception about her identity as Nina's daughter was something that everyone was horrified about. He handled it a lot better than we thought he might handle it, but it worked out well for him. He was a man who was getting his life in order. He was a man who was doing what he could to survive at that time, but she was someone he cared for very much. When he found out she was lying and why she did it, he decided his job was to forgive and not judge, but things have not been the same. It's created a wedge, and they are about to have one of the most emotional discussions that either of them have ever had. How will this go?
Willow is ready to open up. She's had a tough few weeks, she's clearly heartbroken, and things are not going well for her. However, she has made it her mission to try and be okay, and she's ready to start talking. She's ready to let people know how she feels and what she is dealing with and how they can expect to see her from now on. She's not well, but she's also not the most outgoing person in the world. She's got a lot going on in her life, and we appreciate all that she says and that she does. She's someone we enjoy very much, and it's good for us to see her open up.
Stay tuned for more General Hospital and be sure to check out TVOvermind daily for the latest General Hospital spoilers, news, and updates.
Tell us what's wrong with this post? How could we improve it? :)
Let us improve this post!