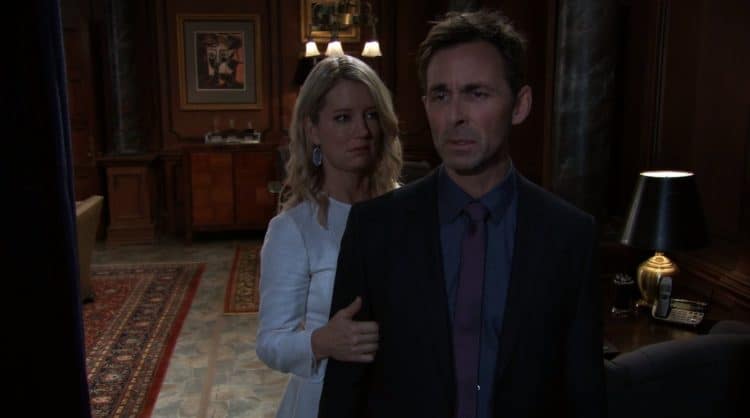 General Hospital fans know that Chase sometimes has some very wise things to say, and it just happened to be Robert with whom he was sharing his sage advice this week. Things in Robert's life might not be going the way that he might want them to go, and we get that. We get that there is a lot happening around here that might make a difference. We get that there is a lot going on that might change the game and the way things are going. We get that there are so many people who are not sure how they feel and how it will affect them, and we hope that Chase has given him some information that will help him and that he will actually take into consideration. This will help in some way, but there is nothing that will change the game for him .There's a lot going down.
Lulu and Valentin rarely agree on anything. They don't like one another, they don't have anything in common, and they aren't friendly. But this was a day in which they were friendly, they did find something to have in common, and they did have a situation on their hand that might make them agree on things. There is nothing that they dislike more, but this is about the little girl that they both want the best for. She is their priority, and that is the end of that discuss. Then there is Jordan, who is curious about a few things. There is nothing that will make this feel like it is more dangerous for everyone than this curiosity and the problems it might bring when questions are being asked. Will this turn into something else, or will it turn into nothing at the end of the day? We don't know.
What's Happening on General Hospital
Hot off the presses! @tamronhall put her trust in Maxie and the Crimson cover story turned out splendidly (if we don't say so ourselves). @TamronHallShow #GH pic.twitter.com/8umXESyEKg

— General Hospital (@GeneralHospital) November 12, 2019
How gorgeous is this cover?
What's Next on General Hospital
"Hey, Finn… I'm home!" #GH pic.twitter.com/tIvXQJwSbj

— General Hospital (@GeneralHospital) November 11, 2019
Carly is keeping some big secrets right now, including one about her ex. We know she's been making some compromises with Jax behind everyone's backs, and we know that this is never going to end well for her if Sonny finds out. It will upset him, and their family doesn't need the upset right now. They have so much else going on that is so much more important, but she's keeping Jax's secret for now. She will not tell anyone that Nikolas is alive and well and working with Jax to do things that no one needs to know about. It's a sneaky situation, but we feel that she can handle it and all that it entails as far as other things are concerned. Perhaps, however, there will be more to this in the near future that does meet the eye.
On the flip side, though, we do see that there will be more going on. For one, we do not anticipate that there will be anything good in Valentin's future now that he is responsible for blowing up the boat Casandra was on. He's not a good man, and we know this. Jason knows this. So does everyone else, but some people still need him for things that they cannot share with others. For now, though, we can see that things will turn. Hayden and Violet have a visit, but it's cut short by someone or something that they did not see coming. Monica is being nice to Kim, and we don't get it. And then there is Liz, who is taking Cameron to visit Sonny. Will this work?
Stay tuned for more General Hospital and be sure to check out TVOvermind daily for the latest General Hospital spoilers, news, and updates.
Tell us what's wrong with this post? How could we improve it? :)
Let us improve this post!