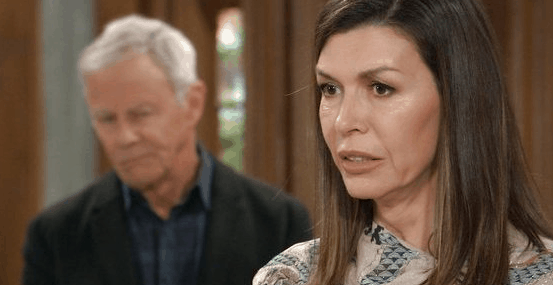 General Hospital fans are going to see things take a wild turn for the worst this week, and we get it. Last week was an ugly one that turned into some big problems for people who cannot handle their situations without any sort of grace or goodness. For one, we know that Michael worried so much about his sister that he went to Chase and Willow for help, and we know she's keeping something to herself that might help them save Kristina. Sam knew that they didn't have much time and she was unable to get this situation under control the way she was hoping to. She overheard some stuff that made her reach out to Sonny and Jason and tell them that she needed them right now — and they came in and got Kristina out. They took her, and they are pretending that they don't know where she is, what is going on, and how this happened.
Kristina is not happy to be with Jason. She wants to go back to DoD, even though she was drugged by them and even though she knows what they have planned for her. She's been so brainwashed that they cannot handle anything other than the fact that she is a mess that they have to deal with on their own, and this is not something that she wants to be involved in. She's got a lot on her mind right now, and they have to find a way to figure out what to do with her. She has to get her mind right, and they will find a way to make that happen. Meanwhile, her sister is putting her life in danger to help her with that, and we don't know what will happen otherwise. We don't know what will be the situation that they work with.
What's Happening on General Hospital
https://twitter.com/TheLynnHerring/status/1116847810194763776?ref_src=twsrc%5Etfw
Everyone is excited about the ball!
What's Next on General Hospital
WATCH: Laura catches Finn practicing his proposal… while Anna questions the reality of her relationship with Robin. @finolahughes #GH pic.twitter.com/gxZO7y5CQt

— General Hospital (@GeneralHospital) April 13, 2019
We are a little bit worried about what will happen this week as things are taking a very ugly turn into something we don't see coming. You see, we do want to know if there is anything we can help, but we don't know that we can. We think too many people know where Kristina is and what is going on, and we think that the DoD people know this. We think that they know that something is happening, that it is a thing, and that this is going to be their situation. We think that we can see things taking a turn, and we are going to be a little surprised to learn that it's Alexis who will make the first mistake. But, will her mistake lead them to her daughter? And what will happen if they find her? Surely, they will not allow her to live now that her own family has compromised her and their situation, right?
But, for now, we will also see that Chase is on to something that might just allow them to figure things out on their own. Ava is working with Alexis and Carly on something, and she might not be able to get her life together enough to not fail this mission she's on. We don't know for certain, but we do know that there is a chance that things might just take a turn that will make their situation feel a little bit more exciting to them, and that might just change their game and figure things out.
Stay tuned for more General Hospital and be sure to check out TVOvermind daily for the latest General Hospital spoilers, news, and updates.