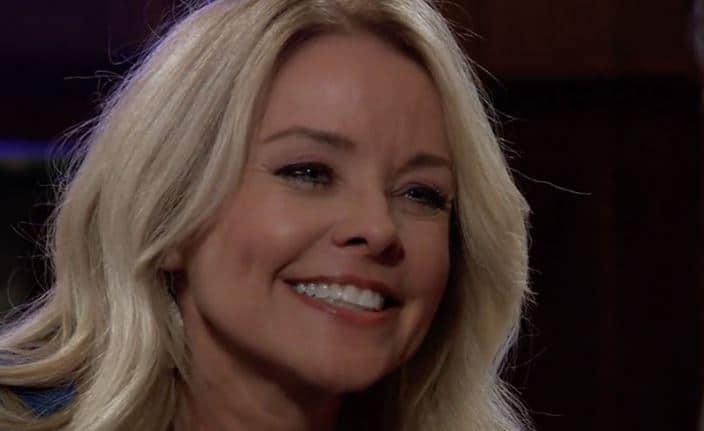 General Hospital fans can admit that last week was one of the craziest and most insane weeks of the year. Everyone was unhappy. Everyone was a mess. Everyone was a disaster of epic proportions. There was so much drama. Michael sending his apologies to his mother was one of the best things we've seen all week. But that was not nearly as sweet as watching Mike look after Sonny even if his intentions were better than the outcome of anything and everything he had to say and do. Things didn't always go their way, but they did make it their mission in life to get together with their thoughts and feelings and get things accomplished in an effort that was quite nice. But what about Oscar? He's so sick and his parents can't bring themselves to tell him the truth.
His friends are horrified. Josslyn is beside herself that any of this is going on, and everyone is making it their mission in life to get together with people that make them miserable. They are not having a good time, and this was a week when parents and their kids had interesting situations. But one of the most interesting was when Sam had to defend her mother. She loves her mother, but she can admit that she's reached a point where this is not what she wants to do with her life anymore. She's tired of this, and she's not looking to make this her situation at all. She's got to get things under control, and she's got to finish getting her life back on track in a way that makes it work. Jason made an announcement that might have shocked some and not others. Julian left the week frustrated, and we aren't sure that will change at all.
What's Happening on General Hospital
Thank you lovely ones for reminding me that it's my 22nd anniversary of employment on my beloved ⁦@GeneralHospital,⁩ and then celebrating it. I feel the blessing in my longevity at #gh & the love from all of you. I'm hugely grateful. Thank you. pic.twitter.com/dpXmByRrYL

— Nancy Lee Grahn (@NancyLeeGrahn) September 28, 2018
We just love an anniversary, and we don't think there is a thing wrong with celebrating such a milestone with people who clearly think you are amazing and who aren't wrong about that! What a fun way to show someone you love that they are there!
What's Next on General Hospital
FRIDAY ON #GH… @GenieFrancis comes home. #GH55 pic.twitter.com/5GzT5qJsC4

— General Hospital (@GeneralHospital) September 26, 2018
How much longer will it be until everyone realizes what is going on around them? Drew still doesn't have that flash drive, but we all know who does. We all know it's Margaux, and we all know what a dirty game she is playing. She's been around the block a time or two, and she continues to make poor choices. We also want to know if Carly will help Mike. What will Ava and her daughter do with Griffin and their relationship with one another at this point? Will Alexis be able to repay her daughter for standing up to her and make things right with Julian even though she knows it's a bad idea? Will Sonny be able to regain even a small bit of control of his own life at this point, or is that just a pipe dream he cannot handle? Will there be any answers to anything that is going on around here? We don't know, and we aren't sure there is much we can do about it at this point.
Liz and Franco are never getting married. There is no way they will when someone else is going to cause things to go back to the square one part of all the planning. They have too much going on in their lives right now to bother with this, and it will get pushed again. They can't handle that or what it means for them, and we can just tell that they will never tie the knot. Or else they will and it will be the best day ever.
Stay tuned for more General Hospital and be sure to check out TVOvermind daily for the latest General Hospital spoilers, news, and updates.