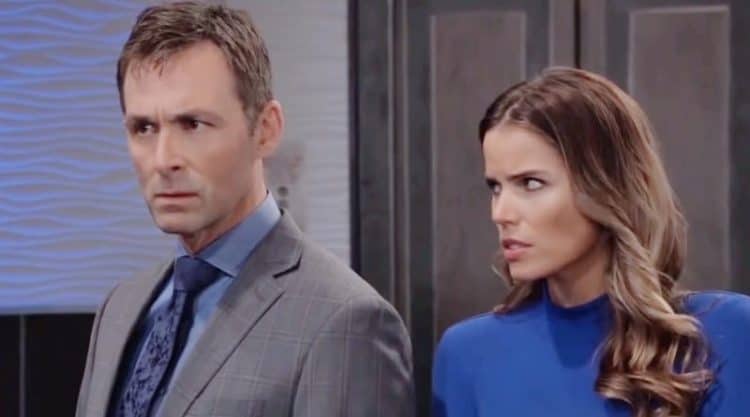 General Hospital fans are looking forward to another day of seeing all the drama that has to do with everyone around here. This is one of those days when we cannot wait to see how Valentin is going to do what he does best, which is try and talk himself into a situation that is not what is actually real. He's a man who has some issues of his own, and that's what we get for wanting to see more of him. Lucy is going to apologize, but she's been there before and will be there again. Anna is nothing short of entirely anxious about more than a few things, and Peter is going to refuse to leave Maxie's side at all when she is in the middle of what she is going through. Meanwhile, we get to see some of Kiki today, which is always so much fun since she's been dead a while now. But, we'd like to take this time to look back at Valentin and kind of go over his own story as it's been told.
The Start
The first time we ever heard of him was in 2009. Helena decided that she was going to work with the man she hated more than anyone, Luke Spencer, to help get rid of a man by the name of Valentin. He is her stepson, and he's a bad person. That's the story she told Luke. She told him that Valentin's father is Mikkos, who disowned him before he was even brought into the world. He did not want the child to be a Cassadine, and Valentin did not like that as an adult. She wanted to see if she could get him to help her with Nikolas, but Valentin decided to take her, hold her hostage, and slowly poison her while Luke worked to save everyone. But, it seemed that he was only a fake person and a fake front for Helena to use when she needed to get out of trouble and blame things on others. At least, that's what Mikkos' daughter, Alexis, thought.
The First Appearance
Even though we heard about Valentin in 2009, it would take another seven years for the show to bring him to light. We'd meet him in 2016. A man by the name of Theo comes to Cassadine Island where Jason and Sam were currently located. He claimed he was a fisherman trying to get out of a storm. They decided to allow him to stay in that time. He did, but then he later revealed himself to be Valentin Cassadine, and he took everyone hostage. That's when he pulls Ava and Nikolas to the side. He tells Nikolas to sign over the entire Cassadine fortune to him or he will kill everyone, but a struggle ensues and Nikolas is killed — so we thought. This is the start of Valentin.
Charlotte and Claudette
A lot happened after all of that, but nothing as shocking as the fact that he showed back up in Port Charles to see a little girl and a former lover by the name of Claudette. He even shocks Griffin by telling him that the little girl he thought was his own is not. She is Valentin's. It's then revealed through tests that not only is little Charlotte not a child who belongs to Griffin, she also doesn't belong to Claudette. She is, in fact, the biological daughter of both Valentin and Lulu. He's already conned Nina at this point, and they are getting married. She wants a child so badly, and finding out he has a little girl who she can love and raise was a thing for her.
But, he also had a major problem with Anna. He actually spoke to her in Latin using a phrase that only spies like herself know, and she begins to put a few things together. He was not good at keeping things hidden, though, and we later found out he was very good at it — but he needed people to know what it was he was trying to tell them. So, long story short, he was a bad guy, and we loved his introduction.