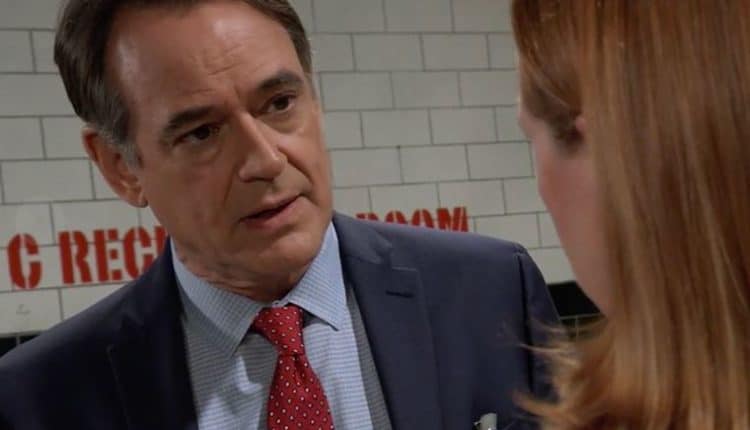 General Hospital fans are always looking for a little bit of closure at the end of the week. We know that Laura is no longer happy with the way her life is going. "Kevin" hasn't been himself in many ways, and she's not going to have much luck in the way of being there for him. She's already asked him to move out, which is something he didn't fight her on. He's not really Kevin, but she doesn't know that. She doesn't know that he is not the man of her dreams, and the man that she fell for. He is his twin brother and she doesn't know that he's been kidnapped and held hostage. She's not in a place right now where she can handle any of that and what is going on in her life. She's in a place where she can get her own situation together, but she's not in a place where she is happy with him — which we hope can change when Kevin is finally free and everyone knows what is happening.
For now, though, Ryan is more than happy to be out of Laura's situation and with Ava. He wants to be with her, and this give him more time to pursue that avenue of his own life, and he's happy about that. We also saw Jason and Sam find something at Ferncliff. We saw that things did work out for some people in terms of what is happening overall, and we did see that there is a lot more that we can do to help Carly can get her situation under control. Michael spend some time with his son — who he doesn't know is his son, by the way — and we all felt all the love and feelings there.
What's Happening on General Hospital
Was #GH preempted in your area today? Watch the LAST FIVE MINUTES of the thrilling episode, RIGHT NOW: https://t.co/xQzFbauZEp #GH55

— General Hospital (@GeneralHospital) November 8, 2018
It turns out there might have been a few problems in some areas today, but that's all right. If you were in the group of people who didn't get to see the show on television yesterday, you can watch it online at ABC.com, or you can find the last five minutes here. If they are offering the last five, we assume those must be the most important five.
What's Next on General Hospital
https://twitter.com/GeneralHospital/status/1059482487477469185?ref_src=twsrc%5Etfw
Sonny has a point to prove, and he is going to make sure he can do that before the end of the week. There is a lot going on at this point, and we know that there is something that people can do to make sure that things are going their own way. We know that he will make his point, but at what cost to him? He has a long history of things that he has to do with his own family and his own life, and he's in a difficult place right now. He's got Margaux breathing down the back of his neck trying to send him right to prison for the many things that she hates him for, and things are a mess in his life.
Ava is quite intrigued by the many things in her own life. She's still trying to break up her daughter and her ex by using Sasha to come in between them, but she's also got Ryan "Kevin" on her to make things happen. He's very interested in her, and she is very interested in that. She's in a place where she cannot handle her own life and the way things are going while she's able to work on so many things at once. However, she's very excited about the prospect of all that is happening, and she's good with that. She's happy to see things working out for her, and that's something she can have in her life. She's not entirely sure she will say no to what's being asked of her at this point.
Stay tuned for more General Hospital and be sure to check out TVOvermind daily for the latest General Hospital spoilers, news, and updates.