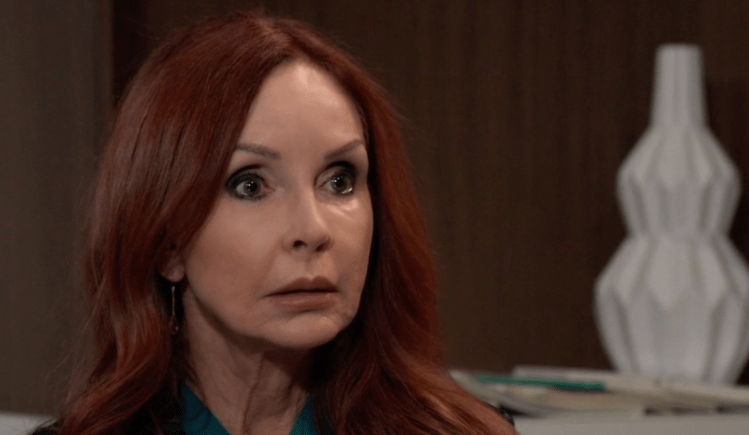 General Hospital fans watched as Michael came to Jason's rescue, which is not typical. Usually, it's the other way around. But, Michael has been going out of his own way lately to make sure that the people he cares for are all right. He's been living such a tough life for years, and he's wondering when things will get better for him. When will it be his turn to find happiness and something that will help him create his own future and his own way of life? When he will have something that he's always wanted? Right now, he is just a young man who continues to choose young women who lie, cheat, steal, and manipulate him and the people in his life about who they are. Maybe he just has a type, though it seems that he is a much nicer guy than they are. But, he's helping, and that does make him feel good in the moment.
Sam is helping Lucas, and she's got to be careful with her plan. She's been dangerously involved in things that aren't good for her, and she is someone who will stop at nothing to help when she needs to. But, she is going into this with a vision in her head of what she wants to see happen, how she wants to see it happen, and what she is going to do in her own life. She's got some situations in her back pocket that have to be dealt with, but we are not certain she is dealing with them the right way. For now, though, she's all he has, so he will use her and allow her to be there while he is working this case. Will she hinder his work, or will she prove helpful in this journey?
What's Happening on General Hospital
#ICYMI: @SydneyMikayla, @RealEdenMccoy, and @LiptonWilliam answered your burning questions on Facebook today. Plus, William treated us all to an acoustic rendition of his original song, "North Star." Don't miss out!
CLICK TO WATCH: https://t.co/Jsyg2tUZBd #GH pic.twitter.com/hJcwH2VuD6

— General Hospital (@GeneralHospital) June 26, 2019
These young faces make us so happy.
What's Next on General Hospital
"There's no way in hell that Shiloh's getting his hands on Wiley." #GH pic.twitter.com/6LVVVtetes

— General Hospital (@GeneralHospital) June 24, 2019
Michael is trying to find something in his own life to be happy about, and today he is going to visit Willow. She might not be where she wants to be in her life, but she is someone who has helped him out a bit in the past. He is going to make sure she is all right, try to get some answers from her, and he is going to see what he can do, what she might know, and how he can help her fix this situation. Will they come to some sort of agreement or understanding as far as they are concerned? Will they find that anything is working in their favor, or will they find that they have so much else to deal with? We don't know for certain, but we do know that they have something going on that might work. They know more than they think they know, but they have to put it together.
Shiloh is going to find himself summoned to Kim's apartment, and we cannot figure out why. What is she doing? What is she up to? She's a mess right now, and we wonder if he is there to try and make sure he gives her the opportunity to come to the dark side? We cannot be sure, but we think that he is in this to make sure he has a chance to tell her about this. The loss of her son is affecting her like nothing else, and she's in a very dark, very lonely place right now. There's nothing we can think to do.
Stay tuned for more General Hospital and be sure to check out TVOvermind daily for the latest General Hospital spoilers, news, and updates.