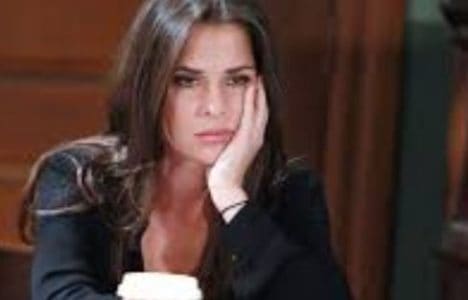 General Hospital fans want to know what Sam is up to. She's been a little secretive lately, and we can't help but wonder what's going on. We know she's always on the prowl for answers she currently doesn't have, but is there a chance she's going to use Maxie to get what she wants about something we're not sure about? Or does her sudden interest in manipulating Maxie have anything to do with her outing the Man Landers situation? We don't know, but we know today we are going to see Sam work Maxie so well and so hard she doesn't even see what's coming.
And we love that. There is literally not a thing we can do to make this more exciting, and we do love to see Sam in action. It's been a while what with her health issues and her sudden hospitalization, then her husband's coma, her dad's arrest, and all that's been going on in her life.
She's a person who wants to get to the bottom of things quickly and efficiently, and we do like that about her. We also like that she's not someone who likes to play games that don't result in serious answers for her and about her. So she's working hard to get what she wants, and she's going to get it. It might help that Maxie is distracted with the situation her marriage is in, but either way Sam is going to get what she came looking for without Maxie even knowing.