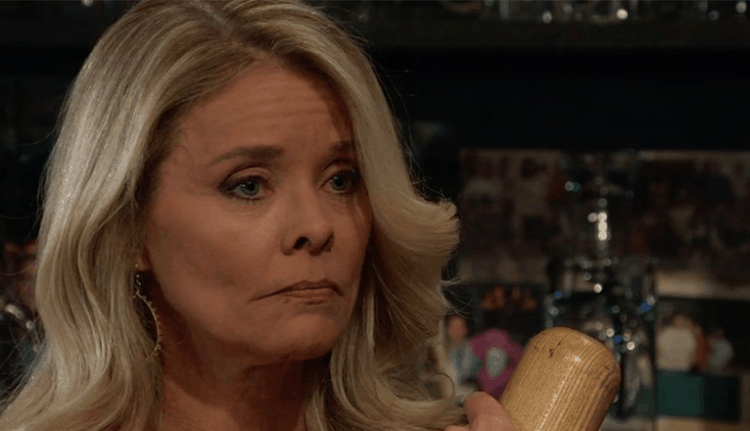 General Hospital fans are not going to stop until we know that Jason is safe and that things are taken care of and handled and in the right place, and we just know that things will not work out in our favor if Sam and Jason cannot make this happen. Shiloh has already come to Jason this week to confront him about what happened. He knows that Jason is close to Kristina, and that he was once married to Sam, and he knows. He knows that something is not right, and Sam doesn't seem to realize that this is a bigger problem that she is willing to go through. She's struggling, he is struggling, and they are going to come to blows sooner rather than later. Jason knows this, too, and it's a mess of things that don't really seem to work for everyone else. There's not much else we can do, but we can figure this out in our own time.
In the same vain, we also know that Alexis is a stressed out mess who is making some carless mistakes. Is she being followed? Is she saying too much? Is she going to forget all her law background has to show her and to make her feel? Has she managed to get her life in order and her situation under control? We don't actually know what is going on with her at the moment, but we do know that there is a lot that might go down because of her careless behavior. Ava is working on a plan, too, but she is not doing well. She continues to fail, and that's okay. She will get it together, but she has allowed her frustration to get the best of her in the moment. She's managed to make things seem as if they are not her fault.
What's Happening on General Hospital
Kristina is digging in her heels and is headed for disaster! @_lexiainsworth @GeneralHospital #GH

— Frank Valentini (@valentinifrank) April 23, 2019
We can see that, for sure.
What's Next on General Hospital
"I am done with this. Eliminate him." #GH pic.twitter.com/wRuGEGTtgW

— General Hospital (@GeneralHospital) April 23, 2019
Things are happening that might not make sense, but we can say for a very bold moment that we will see Neil make a move on Alexis. It might seem minor and almost not important, but we see right through it. For example, we know that there is nothing that she cannot handle on her own, but she is upset and she is going to seek comfort in him. He will be quick to offer it, too, and that changes the game in so many ways. Everyone has something they need, something they want, and something that they cannot handle or give to anyone else in the moment. But, we also know that there is more to life than what they are dealing with right now. For the moment, however, we can only assume that she will not notice his friendly behavior as anything other than kind. We see it, though, and we want you to mark our words.
Sam is going to find that she's in the middle of a life that means she has no privacy, and she will be interrupted in the middle of something. Will that be something she's doing to get into the middle of DoD even further? Or will it be something that is putting her in an even uglier situation with everyone else? For example, will she find that her life is not working out in her favor for a moment, or will she find that it's not work out for her at all because they find her doing something to make her case that makes her look as if she's against them?
Stay tuned for more General Hospital and be sure to check out TVOvermind daily for the latest General Hospital spoilers, news, and updates.