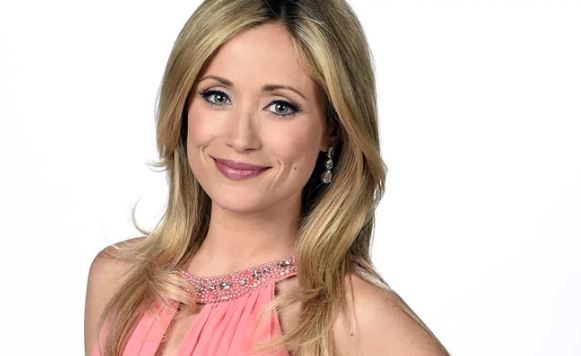 General Hospital fans have always been big fans of Emme Rylan, who plays Lulu Spencer. She's been on the show for a long time, and she's a phenomenal actress who brings much to the show. Fans love to see, her and there is a good reason for that. She's someone who brings her A game every time she shows up, and we want to get to know a bit more about her as a person rather than just as Lulu, the woman who only just found out she has a child of her own on television.
1. She's Not Married
Emme Rylan is not a married woman, but she's been with the same man for a very long time. They are engaged to be married, but they've yet to set a date or make it official. She's been with him since 2007, and his name is Don Money.
2. She Changed Her Name Credits
When she first began acting, she went by the name Marcy Rylan. At some point, however, she decided to change the name she used in her acting credits to Emme Marcy Rylan. She doesn't go by Marcy Rylan at work anymore, and that's her own personal decision.
3. She's Been On Another Show
She's not famous first for her role as Lulu Spencer. She's first famous for being the woman you see on Young and the Restless by the name of Abby Newman. She's not the same Abby anymore, but she was at one point. When budgetary issues caused her to leave the show, she was replaced by another actress.
4. She's From North Carolina
She was born in the south. She's a North Carolina girl all the way, but she was not always there to live her life. She moved at some point in her childhood, and we've always wondered if she might have a hint of a southern accent somewhere in her vocabulary.
5. She Grew Up in Pennsylvania
At some point before she graduated high school, she moved with her family to Pennsylvania. She went to high school there, and she graduated there in 1999. She was in a town called Tyrone, where she graduated from Tyrone Area High School.
6. She's an 80s Baby
Emme Marcy Rylan was born in 1980. She's the epitome of an 80s baby spending the entirety of her first decade living in the decade. She was born on November 4, 1980, which means she will celebrate her 38th birthday this fall.
7. She Has Three Kids
She might not be married to Don Money just yet, but they've got three kids together. Since 2007 when they began dating, they've introduced three kids to their family. They have two sons and one daughter. We don't know how old any of them are.
8. She's Been in Movies
She's not just a television actress, either. She was a cheerleader in the straight to video move "Bring it On: All Or Nothing" alongside famous actress Hayden Panettiere. The to both starred on "Guiding Light" together, too. Which is, so you know, another soap she was on.
9. She's Changed Her Actual Name
Emme Marcy Rylan was not born Emme Marcy Rylan. She was born Marcy Faith Behrens. She legally changed her name at some point, and we don't really know why. We assume her name wasn't as glamourous sounding as she might prefer in Hollywood, but we don't know.
10. She Takes Over Roles
None of the soap roles she's played have been hers from the start. She's always come in and been the recast role, but she's managed to make all of them her own, which is a huge accomplishment. All three roles she's played on major soaps have been her own only after someone else left. It's hard to come in and take over a role millions of people watch each day and be a new face in an old character. You cannot emulate the last actress, so you have to make the character your own while still adhering to the reputation and personality the character already has. It is not an easy job, but she's been able to do it quite well with panache and with success, and that's why she's here today.