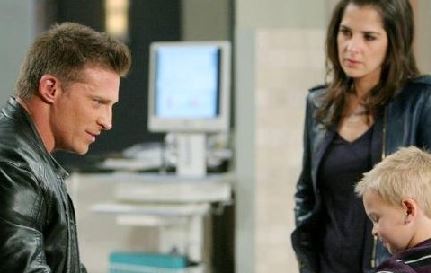 General Hospital fans are going to see a lot happen in the near future, including the moment when Sam asks her real husband — Jason — for a divorce so she can marry the man she's thought was her husband for the past few years. We have a feeling this is not going to go well with Jason, but there's very little we can do. In fact, he might feel the same way. He's sort of reconciling himself a day at a time to the fact that she's been with Drew so long now she can't just leave him behind and move on with Jason.
He knows this cannot be easy on her and that there is nothing she can to but work with her feelings the best way she knows how. There is nothing she can do to help with that, but she's not going to focus on her own life right now when she finds out what she's about to find out about Drew. But we hear that she will definitely ask Jason for that divorce first.
And then she might just regret that considering what she might learn about Drew is going to be awful. We aren't sure there is much she can do about any of this, but we assume there is a lot that she might be willing to discuss with him. One of those things is a divorce, and we might be surprised how Jason reacts to her request to make this happen at this point.
Tell us what's wrong with this post? How could we improve it? :)
Let us improve this post!