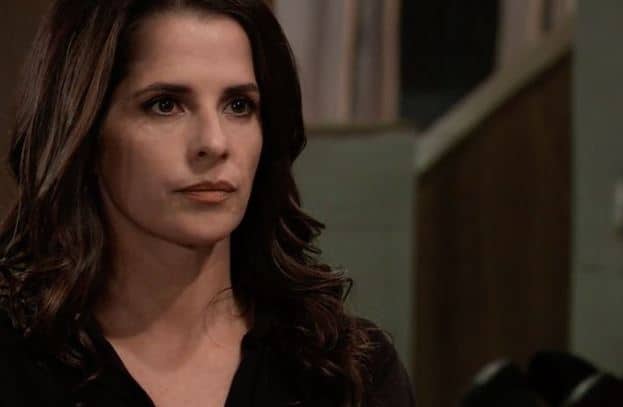 General Hospital fans don't like to see things in the Corinthos household go the way they've been going. They cannot get a break at all. We saw Carly receive a big surprise to start the week, but it's the fact that Sonny and Jason were so rudely interrupted we don't know how to handle. Their conversation didn't go where they wanted it to go for more than one reason, but they have a chance to get things to work for them if they put their mind to it. They have to find a way to turn this around, but they have some big problems to face. This family has been doing nothing but facing big problems for well over a year now, and we cannot figure out what the point of all of this is for them. They are suffering, and they will not stop until they can get this all to go away. But we don't think that's entirely possible.
Margaux is on a mission, and her mission is to take them all down. She's tired of them, what they have to offer, and what they are doing to her life. She wants nothing to do with the problems she feels that this family is bringing to her life, and she is not sure she can handle what they all want from her. She will go out of her way to find evidence that puts Sonny away for the rest of his life, and we think she's willing to overlook the truth about some things as a result. She might be willing to make mistakes, make big considerations, and make big problems for the people in her life as a way of making sure she's able to get her life together and make it all work for her. She's making mistakes.
What's Happening on General Hospital
#MCM: Sonny's a big softie when Avery's around. @MauriceBenard #ManCrushMonday #GH55 pic.twitter.com/ZZH9sSXGmO

— General Hospital (@GeneralHospital) October 15, 2018
Who doesn't just love this MCM? We do, and we think you will love it, too, and so we are sharing it here for you to enjoy as you go about your day like it's your job. We want you to see this, love it, and move on with a better week because of it.
What's Next on General Hospital
"If Margaux wants to come at me, bring it on." #GH55 pic.twitter.com/CuO0JpZzUL

— General Hospital (@GeneralHospital) October 15, 2018
We know that Jason is not above looking to Monica for help. There is a lot that is going on in his life right now, and he will not have much to go on to make things easier on himself. He's making mistakes and doing things that he cannot control, but he will also have a big problem to face in terms of the people in his life, too. He's got to get things in his control, and he's hoping she can help. He wants to help his friends, he wants to make things work with Sam, he wants to help his twin brother and his new nephew, but it's all turning into something that will not be easy for him. He's faced nothing but challenges since he came back, too, and he's stressed about all of it.
We will also see that Ava is not going to continue to do well. She's a mess, and she cannot get her life in order. She has no one to blame but herself for the issues she's facing, but she's also working very hard to make sure that she can still live how she wants. She's been in the middle of things that put her life in danger, her daughter is upset with her, and she lost Griffin — to her daughter. But now she's got a new drinking partner in her life, and this is not going to be a good thing. This is not a person with good intentions. And we wonder what this might mean for her and her life now that they are working.
Stay tuned for more General Hospital and be sure to check out TVOvermind daily for the latest General Hospital spoilers, news, and updates.