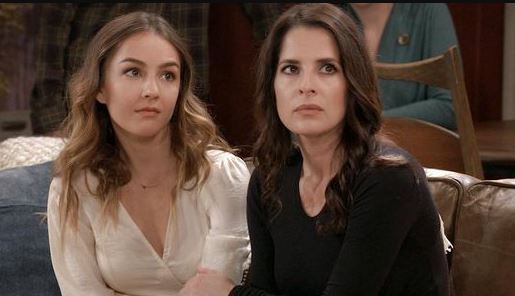 General Hospital fans watched the week go down in such a way last week, and that makes us a little bit more excited for this week. For one, seeing Sonny end the week with a visit to his son's grave was touching. He is a man with a lot of hurt in his heart, and we can only hope that at this point he's not going to have to face even more hurt with the way things are going. We aren't sure that there is much that he can handle in his delicate state that will not push him over the edge. He's a man who needs a break, and he needs for his family to get one sooner rather than later. We don't see that happening, of course, but a good week would be good for him and for his family. Furthermore, Lulu ended the week with a disappointment situation. She's been feeding Peter information that she feels might help her out a bit, and he's decided that he will not go the same way with it that she was hoping he would go.
She's making decisions that aren't good for him, and he's making decisions that are not what she was hoping they would be. We hope, though, that they can find a way to make things more interesting in their own lives. We also hope that they can find it in them to change a bit of their own situation to make it more appealing. They're struggling in their own right, and we do get that. But, for now, we all have to see what might happen. There were meetings, warnings, and there were announcements made, and we aren't sure that any of it will work for everyone. There will be a lot more to it this week.
What's Happening on General Hospital
WATCH: @donnellturner1 has some insight into the mind of well-known, #GH prankster @MauriceBenard. @lldubs @Bri_Nic_Henry @wesramsey @josh_swickard @VisitGraceland #Graceland #GH55 pic.twitter.com/aWjEtMR7lc

— General Hospital (@GeneralHospital) January 19, 2019
Who do you think gets the title of biggest prankster on the show, and do you think that this will be more exciting or less exciting than anything else?
What's Next on General Hospital
"Why did Kevin have a list of Ryan's victims?" #GH55 pic.twitter.com/P6336n04sP

— General Hospital (@GeneralHospital) January 18, 2019
Ava is never really a woman who makes good choices or does things that make much sense, and this is a day that will not be unlike any other. However, this is also the day that Lucy is going to stop what she's up to and back Ava into a corner. She has some questions, and we have very little doubt that some of those questions will touch on what she thinks she is doing with Laura's husband. And we think that Ava will not know what to say. Should she remain quiet about her decisions and go from there, or should she make it a point to keep her thoughts to herself? She might just be honest about all of it given the fact that she's not the kind of woman who usually cares at all what people think, but that might not be it, either.
Ryan has a moment in which he feels that everything he's doing is going well and according to his plan, and he will not stop at gloating. He might be a bit premature, but we don't know where this story is going to end up. All we know is that he might be expecting to take someone down very easily — Carly, perhaps — and it might not go that way at all. We don't know what might come of this, but we do know that there is very little else we can do to make this situation feel better for Kevin or for the people whom he is deceiving. But that's not what will be the most exciting thing. Kim is gong to open up to Liz about her problems and the struggles she's having, and we might just get to see what is going to happen to these people.
Stay tuned for more General Hospital and be sure to check out TVOvermind daily for the latest General Hospital spoilers, news, and updates.