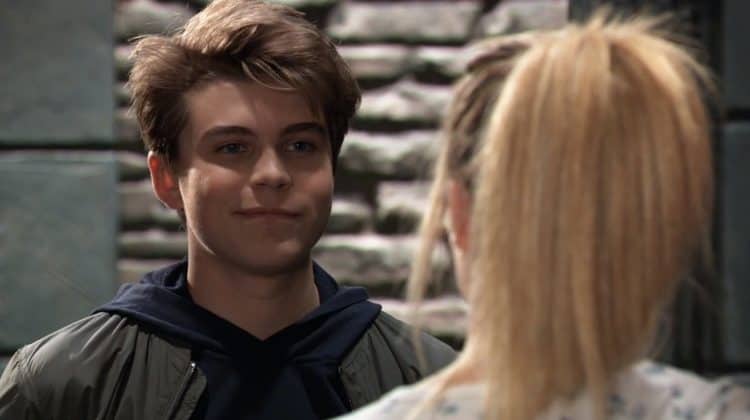 General Hospital fans aren't sure how to focus on anything other than what is going on right now, including the fact that we cannot wait to see how things go down now that Liz has this terrible news, Julian has decided to support his sister, and Laura was not able to act on what she wanted to act on thanks to the fact that Jax put a stop to it. For one, we all know that her son, Nikolas, is alive and well and back in town, but we don't know why and how many people are aware of this. The simple fact that he is not dead after Valentin killed him and had him sign over everything in the family will to him is beyond us, and we think that Jax and Hayden have known this information for a very long time. But, what are they up to? They are not telling us everything, and we can just feel that.
We also know that there is not a chance in the world that there is going to be a peaceful or happy ending to anything that is going on in Liz's life. Nikolas is back, and that will cause her some very strong feelings and big emotions. She's already dealing with losing the man she just married to the memories of Drew, who is nowhere to be found. Franco is also nowhere to be found, but Drew is a smart and cunning man who might do anything and everything in his power to make sure he can continue to live in this man's body no matter what it takes. This is not going to end well for her, and we know that people like Valentin might want to slow down, watch out, and be ready for what might come their way. It's only going to get uglier for all.
What's Happening on General Hospital
Julian pushes Brad out while Lucas drowns his sorrow! @WilliamdeVry1 @parryshen @RyanCarnes1 @GeneralHospital #GH

— Frank Valentini (@valentinifrank) November 5, 2019
Because who did not see this one coming?
What's Next on General Hospital
"I don't want my mother to know that I am alive." #GH pic.twitter.com/jnZFquOKwr

— General Hospital (@GeneralHospital) November 4, 2019
Things still aren't looking good for Sam, and that's a real problem in her life. She's not only dealing with her own set of issues surrounding what happened in her life, but she is also trying to continue to help her family and all that they need of her. It is almost too much for her, and she's not sure how to focus on that and make things in her life even easier than they already are. We aren't sure how to focus on that for her, either. But, we do know that there is a situation that needs her to look into it. For now, though, she has some questions about things, and she is not afraid to ask for the answers she's looking for. Then there is Cassandra, who is nothing short of scared. She's worried, she's scared, and she's not sure how to focus on anything else in her life.
Nina is going to visit her brother's grave for some peace. Will she speak to him, and will she ask him what to do in her life? Will she want to know if there is something she can do to save her own life and the way things are going for her, and will she find something she's not looking to find? We know that sometimes visiting the burial spot of our loved one is something we need to do in life to feel better, but what happens when you don't know what to do next in life? What happens when you don't know how to over come things in your life?
Stay tuned for more General Hospital and be sure to check out TVOvermind daily for the latest General Hospital spoilers, news, and updates.
Tell us what's wrong with this post? How could we improve it? :)
Let us improve this post!