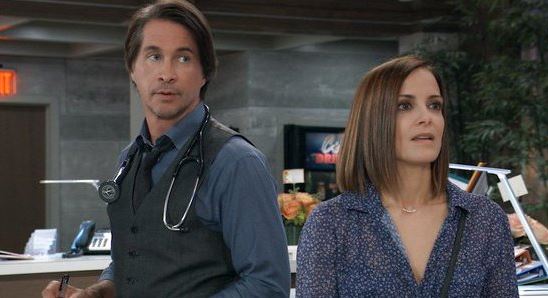 General Hospital fans love it when Sonny makes accidental situations happen to use to his advantage. Watching him make it clear to the world that he was running into Robert was one of our favorite. We liked seeing it happen, and we like seeing things like that work out, but what about everything else? Is there more that we can see happen, or is there more that will go down? Sonny never does anything he doesn't feel will benefit him, his business, or his family, and the world knows that. Does Robert suspect that their chance encounter was anything but? We can't decide, and we don't know, but we do know that he might just make some big changes in his own life in the meantime. He's not sure what is going on, but we can tell you we suspect that Sonny will make it clear before much longer.
Jason went to see Carly. He will always be her friend, and he will always support her even when he does not agree with her. He knows she's a complicated woman, and he knows that she needs someone in her life who always believes in her and doesn't make anything worse for her. They had a nice visit, if you believe that. Cameron, on the other hand, did not do something nice to a friend. He betrayed a friend while he was in the middle of his community service situation, and he might not even feel that bad about it. His choices are bad, and he knows it, but he cannot seem to stop making those bad choices and doing things that don't work for others. He's a mess, and we can't be sure he can fix that. He needs help, but who will give it to him?
What's Happening on General Hospital
Michael and Sasha take a step forward and two steps back. @duelly87 @SofiaMattsson1 @GeneralHospital #GH

— Frank Valentini (@valentinifrank) July 23, 2019
Does no one see that this just will not end well?
What's Next on General Hospital
"I know something you don't… about [Wiley]." #GH pic.twitter.com/rfWOeeXENQ

— General Hospital (@GeneralHospital) July 22, 2019
Carly is not in a good place, ever, but today will bring her a situation that doesn't work. She's going to run into Jax, which is never good. He's not someone who always agrees with her method of living, he tries to get back together with her more often than not, they disagree over their daughter more than anything else, and they definitely don't see eye-to-eye over Sonny. And, let's go ahead and add to that the fact that Sonny hates when they run into one another because he has zero trust for Jax. But, this is going to turn into one of those days when they do see one another, when things do turn around for them, and when they do have a conversation. Will it be a good one, or will it only serve to further complicate things?
Nina has some bad news, but we all know she's the bearer of that in many situations. Things never work out in her favor, but she does try so hard to make sure her life is good. We don't know what kind of bad news she has right now, but she does seem to have some issues that might not make things better. She might not have the worst news ever, but we cannot pretend we don't think that she's got something else on her mind and in her situation. She's a mess, and we get that. We know that she's not living her best life, and that is all right. She's going to do what she can. Ava is going to get a second opinion, and we think that is a good idea.
Stay tuned for more General Hospital and be sure to check out TVOvermind daily for the latest General Hospital spoilers, news, and updates.
Tell us what's wrong with this post? How could we improve it? :)
Let us improve this post!