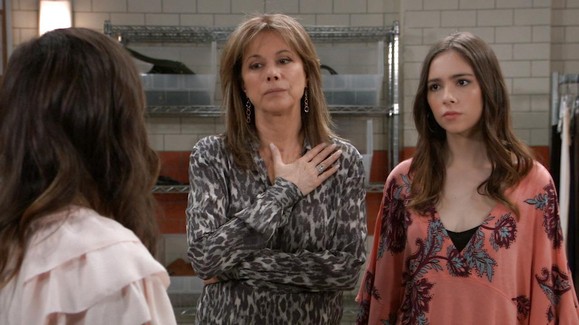 General Hospital fans feel like we should start with Nelle today. She's a mess, and she has always been a mess, but this is one of those situations that makes us feel as if she's got a lot more to worry about than we thought. She's asked Nina for a favor, and we think that she knows Nina will do this for her. If she really is her daughter, Nina is going to work so hard to make sure she is able to do all she can to get what she wants, to make this all work, and to be someone who is there for her child. She missed out on many years of this, and she's not about to continue to do that. She's ready to do what is needed to be there for Nelle at this point, and we know she will take advantage of that with Nina.
Brook Lynn cannot seem to stop getting herself into trouble. She's a mess if we have ever seen a mess. She has more issue than we care to admit, and she's a person with a lot to lose. But, she cannot seem to figure out how to keep her life in order, and we don't know what she's going to do to make that stop. For now, though, she has to either get it together or learn that she's going to face some massive consequences. Michael and Willow have a lot of differences right now. They are struggling to figure out their own lives, and they are not doing a very good job of it. They have to get things in order, but will they? Can they even do that? We don't know, but we know that they have to for the baby's sake right now.
What's Happening on General Hospital
Thank you to all the real life Nurses for all you do. You are truly the stars that shine. God Bless. @GeneralHospital #GH #NationalNursesWeek #Heros #gratitude #appreciationpost https://t.co/ETNdn825sD

— Jackie Zeman (@JackieZeman) May 5, 2020
This is so much fun.
What's Next on General Hospital
"It's your choice… your money or your son." #GH pic.twitter.com/hs9aFJWju6

— General Hospital (@GeneralHospital) May 4, 2020
Michael is going through a life situation right now that no one ever wants to go through, and he has to make some tough choices. He's not sure how to do this or what to do with all that he knows now, but he has to face the facts that his life is a mess. He has to make some tough choices, and the ones that he has to make today will be nothing short of entirely life-changing. There is nothing that they can do; and nothing that will ever change for them. It's a big mess, and it's one we cannot handle in any capacity. They have to fix this, change this, and make this work in their own way. Julian, on the other hand, has a friend. We know, we know. He never has friends who are willing to help him with anything good, right? But, this is different. This time, he is helping his friend.
Nelle has a proposition, ane now we are worried. She's never had an idea that is good or even remotely kind, and we worry. Who will she go to with this thing? Who will she try and hurt with this? There is not a chance we think that whatever she has to offer is a good thing for anyone, even if she can make it sound like it is. She does nothing for no one but herself, so this is a situation that might not work out for her in any capacity. This is a problem, and we get that. But, at the same time, we also know that there is a lot we cannot wait to see with this one.
Stay tuned for more General Hospital and be sure to check out TVOvermind daily for the latest General Hospital spoilers, news, and updates.
Tell us what's wrong with this post? How could we improve it? :)
Let us improve this post!