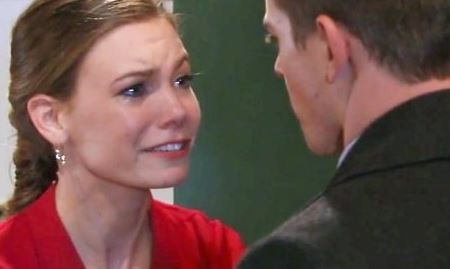 General Hospital fans know that Michael is not interested in spending his life with Nelle despite the fact she says she is pregnant with his baby. In fact, he's on a date this week. He's got a woman by his side who he feels good about. He's attracter to her, he thinks she's funny and witty, and they are having a nice time at dinner. They are flirting and having a great conversation, and things are going well for them, but we hear that this is a date that might not go well.
Despite the feelings he has for this woman and how well it all seems to be going, we hear it will not go well at all. Things will take a very dramatic turn, and we have a feeling it all has to do with the fact that Nelle is pregnant. After all, there aren't all that many women who want to get involved with a man who has a pregnant woman in his life.
He's having a baby with his ex, and that can be a lot of baby mama drama for most women. She might not want to invite that kind of drama into her life, and most people can't blame her for that. It's better to cut it off now than it is to fall for him and his baby and then decide that all the crazy Nelle brings to life is not worth her time. She might make the right decision now for herself.