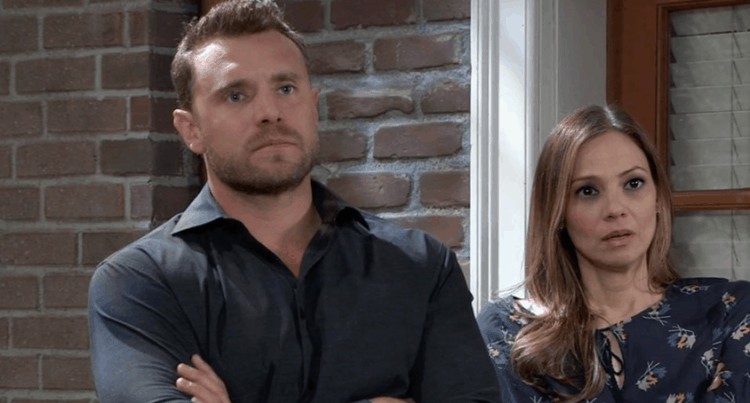 General Hospital fans watched as Shiloh demand answers. He's sure he knows what is going on and how things are turning into his favor, but he's not going to stop until he finds out where Kristina is. We have no doubt that he is going to kill her if he finds her. He will not welcome her back into DoD now that she's been taken, held against her will, and doctors have been talking to her. He cannot take that chance, and she has no idea. We are positive he will simply kill her and make it an even game in terms of punishing those who thought they could go against him, too. And that will be the deal he takes into consideration if he finds her. But, we hope he will not find her. He is not a good guy, and Sam has to work faster.
But, then there is Sonny, who is alarmed by the news he is getting. Sam is in danger. Kristina is not going to fall into her old life as quickly as he thought she might, and what the doctor has to say is not good news. She's not responding to his treatment as he'd hoped. Whatever Shiloh and the rest of these people did to her, it's not something that is going to be easily handled or changed. He needs more time, and he needs more help, and he also needs her family to kind of back off and let him do what needs to be done without interruption and problems. It's not going to be something that ends well as a whole, but we can make it work somehow. For now, though, we are going to let people figure things out on their own.
What's Happening on General Hospital
🎈 Please help us wish @NancyLeeGrahn a very #HappyBirthday! 🎂🎁 #GH pic.twitter.com/DqB9UiOKpG

— General Hospital (@GeneralHospital) April 28, 2019
Happy Birthday, Alexis! We love watching you rock at life.
What's Next on General Hospital
"I am done with this. Eliminate him." #GH pic.twitter.com/wRuGEGTtgW

— General Hospital (@GeneralHospital) April 23, 2019
Alexis is, we've noticed, spending a lot of time with Neil. Is this because he is treating her daughter and looking to get her life back in order? Or is there more to it than that? We do think that there might be a bit more to it than that, but we cannot be totally sure that this is happening. Is there a chance that she is not going to have her life figured out in any way until she finds out her daughter is all right? She's currently got two daughters in danger if you consider the fact that Sam is out of communication and trying to take down the men who did this to her and her sister. Alexis is a mess, but we think that this doctor can get her back on track.
Sam is going to be more determined than ever, and that might be a bad thing. She might be more motivated, but will that make her better at this, or will that make her want to rush her work, make mistakes, and then end up hurting herself and her family even more? Ava is going to be on high alert after she receives a phone call that she feels puts her in a bad place. It gives her a bad feeling and sends her into a panic. She's not feeling it, and she might know that whatever it is could turn into a bigger problem. She's a smart woman, so we do trust her instincts even when she does not.
Stay tuned for more General Hospital and be sure to check out TVOvermind daily for the latest General Hospital spoilers, news, and updates.
Tell us what's wrong with this post? How could we improve it? :)
Let us improve this post!