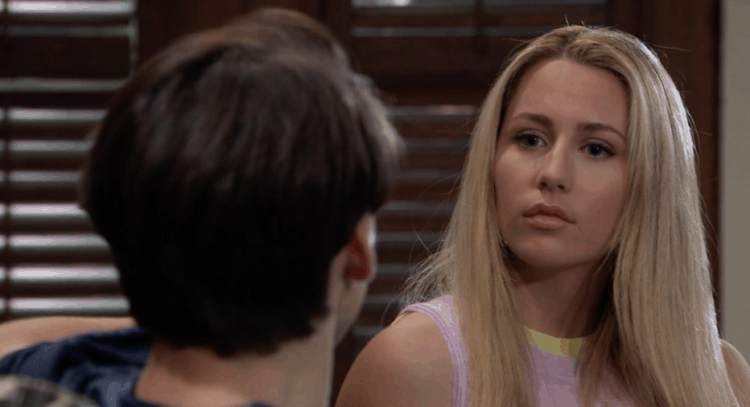 General Hospital fans know that Chase had no choice but to arrest Willow, but we all know that he did not want to do this. He had to do it, though, because she didn't cooperate with him and abide by the law. He wasn't happy when she decided to ignore the judge's orders, but he does understand why she made this decision and why she did it. He gets it, but that doesn't mean he has to like it in any fashion. Things might not work out for them in the way that they expect them to, want them to, or need them to, but he has to face the facts that his job is not always the most fun at times. He knows she's a good person who is only trying to protect her baby and the horrible things going on in her life, but he has little issue otherwise.
Then there is Kim, who has decided to make a move on Drew. She's still seeing Julian, but she feels very bonded to Drew now that they've been to Africa together and experienced the loss of their son. They are connected in a way that they will never feel with anyone else, and she's looking at this in a situation that is not entirely what it is. She's not in the right place, and she has no business doing this. She doesn't need to start something with Drew out of sadness, heartbreak, and emptiness. It's not a good foundation or a good basis to their life together. But, she's sad. And then there is Julian, who has done all he can — always — to protect his family. Will this, if he finds out, cause him to falter in that situation and make a mistake? He can't afford that.
What's Happening on General Hospital
TODAY: @RealEdenMccoy, @SydneyMikayla, and @LiptonWilliam are answering your questions live (on Facebook)! Tune in at 1:30PM ET | 10:30AM PT to join the conversation. See you there! #GH pic.twitter.com/omUrFwFzFG

— General Hospital (@GeneralHospital) June 26, 2019
All your questions answered!
What's Next on General Hospital
"There's no way in hell that Shiloh's getting his hands on Wiley." #GH pic.twitter.com/6LVVVtetes

— General Hospital (@GeneralHospital) June 24, 2019
Sam is going to have a lot on her plate in the near future, and it all has to do with her recent conversation with Lucas. He needs help, and he needs it from her. She's the right person for the job, of course, and she is happy to step up and do the work that is needed to make this situation right. Meanwhile, we know that Alexis is not entirely thrilled with Julian right now. He's made it his mission in life to do anything and everything in his power to protect his family and do what needs to be done to help them get where they need to go while still doing what they need to do, and she's not having it. He considers her family even if she doesn't feel the same about him all the time, and she's letting him know that his recent actions are a problem for her.
Michael, on the other hand, has to come to Jason's rescue. Things in their situation are turning upside down yet again, and eh is appreciative that he is there to help. There is nothing we think that Jason cannot do, but we also know he is the type who is going out of his own way to make sure things are as good as possible. On the flip side, though, we know that Michael is in a tough spot. He's got to figure out his life and get things working in his favor, and that is not always easy for him or anyone else in that situation. For now, though, we know it's good stuff.
Stay tuned for more General Hospital and be sure to check out TVOvermind daily for the latest General Hospital spoilers, news, and updates.