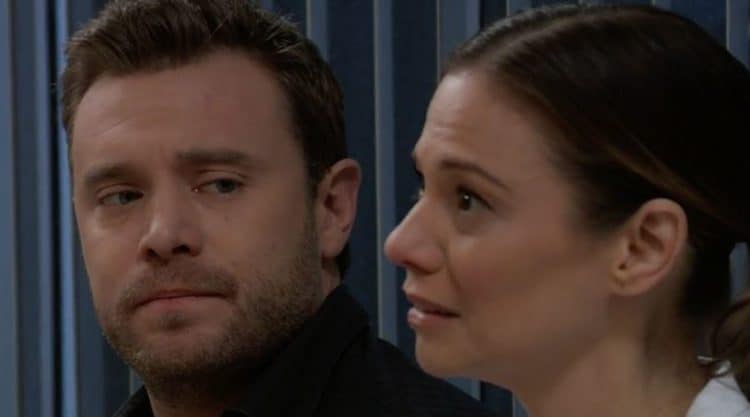 General Hospital fans are all about what happened last week. It was an interesting week with so many things going well for some and not for others. Laura began the week feeling good about her marriage and her husband again when he was encouraging to her. But that isn't something that always goes well for her. She's feeling good right now, but we all know that will not make much sense to them in the future. For one, he's still not her husband. He's her husband's twin brother taking over his life and pretending to be her husband so that he can cause major life problems and hectic situations. It's something we cannot deal with if we are not going to focus on the positive outcome. Someone has to figure this out sooner rather than later, right? She's feeling good, but for how much longer?
Otherwise, we saw that there was a lot happening with Kristina. She's got her sister worried. Sam is not happy with the choices that Kristina is making and has made, and she's made it clear to those around her that she's not going to focus on anything but what is going on. There is a lot happening around here, but Sam's desire to protect her sister while also trying to find out who is stalking her while also trying to make sense of her feelings for her ex-husband are throwing her off of her normal game. But we are hoping that this week brings her a bit more peace. One person who is feeling good right now is Josslyn as she works on supporting Oscar. She's got a lot going on in terms of her feelings, but she knows that being there for him is the best thing she can do right now.
What's Happening on General Hospital
There's still time to binge all 20 episodes of the "Best of Sonny & Carly" Collection! What're you waiting for?!? @MauriceBenard @sarahjoybrown
CLICK TO WATCH: https://t.co/Zqb3qcVkMy #GH55 pic.twitter.com/82iu8659ao

— General Hospital (@GeneralHospital) January 11, 2019
Who doesn't love a little binge watching? If you love Sonny and Carly as much as the rest of us do, then this is the moment you should get to see. Tune in and don't miss it.
What's Next on General Hospital
WATCH: Anna puts on a brave face while Griffin struggles to have faith his friend will ever see again. @finolahughes @mattcohen4real @wesramsey #GH55 pic.twitter.com/KzF5Rope6J

— General Hospital (@GeneralHospital) January 12, 2019
Sonny has no idea what to do right now. He's torn in a million directions, and it's throwing him off his game. He is a man who doesn't always feel that he can do things of his own accord, but he's also a man who feels that he can do a lot more than just exist. He's going to be nice to everyone in his way when he has to be, but he's not sure how to go about making decisions with his mind in so many directions. His dad, his wife, his daughter, his son, the baby that was lost, the investigation that's going on, Margaux and all the problems that she has managed to cause for him. And then there is Lulu and all the situations she's finding herself in. That doesn't even count what his friends are going through and what is going on in his own mind for his own life. He's torn — and it's stressing us out. We are not accustomed to seeing him this way, and we do not like it.
Jason has to make a promise to someone in his life. We assume his promise is to Sam to help her stay safe and to keep her family protected, but we aren't positive that is what is going on. However, we are positive that Ryan is up to no good — as per usual — and this time he's adding a new name to his list of people to kill. We assume it might be someone like Carly or Lulu or Laura, and we are fearful for them.
Stay tuned for more General Hospital and be sure to check out TVOvermind daily for the latest General Hospital spoilers, news, and updates.
Tell us what's wrong with this post? How could we improve it? :)
Let us improve this post!