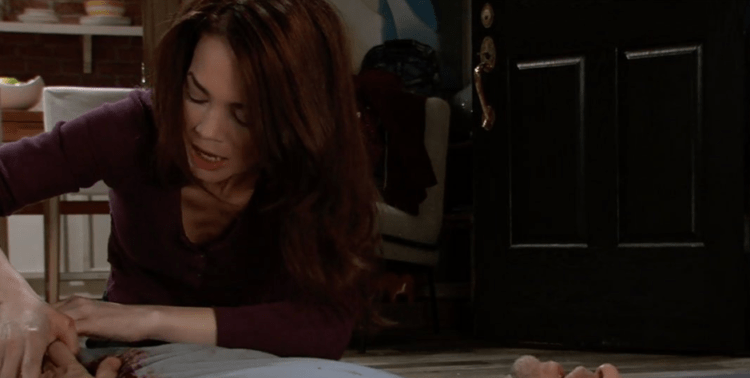 General Hospital fans have been watching Ava tread very carefully around Ryan, whom she believes in Kevin, for weeks now. He's into her, and he's been making it quite clear. However, she's not really been feeling all the same about him. She's been very careful about her feelings, but it's not working out for her so well. Well, it seems that all she's learned about him recently was all it took. She's fallen head over heels for this man, and we don't think there is anything anyone can do to change that. She's in a position that will not allow her to be where she wants to be in life, and we cannot help but wonder if there is more to it than that. We are not sure she's going to have much else to say, but she's going to marry him. We just know it. She's done for him. It's all he wanted.
Meanwhile, Jason is determined to get to the bottom of all that is going on. There's so much happening in his life that he's been focused on more than one thing at a time, which really is not working out so well for him. He's having some problems, but we feel confident he will get through it. And then there is the fact that we know that Liz has some issues to deal with. She's been working so hard to make her life feel better and happier, but it's hard when your fiancé is in prison and everything is going the opposite way you want to see it go. She's working hard to get through this, but we don't know that she can make that happen right now. We all want to see her get through this, and we hope it breaks soon for her.
What's Happening on General Hospital
It takes a village bring the characters of Port Charles to life. And we wouldn't be able to do it without our remarkable Hair, Makeup, and Wardrobe departments. Please help me give them a round of applause. 👏👏👏 @GeneralHospital #GH55 pic.twitter.com/hzH8Xn9DEZ

— Frank Valentini (@valentinifrank) March 1, 2019
We love seeing the behind-the-scenes people who have such an important role to play recognized for their outstanding work!
What's Next on General Hospital
"This situation is gonna kill me." #GH55 pic.twitter.com/YRYlJN30QO

— General Hospital (@GeneralHospital) February 25, 2019
Jason is troubled, but we think that it might have to do with the fact that he's unable to find Carly. We know that she's been taken by Ryan, who clearly hates her, and she's in danger. But he has to find her before it's too late. He knows there is something wrong, but he's not sure how to find out what it is and what is going on there. There's a lot happening that he cannot seem to figure out, but he will make it a point to get what he needs to get from these people. We also feel that he knows more than he thinks or realizes he knows. He's got the pieces, he just has to figure out how to put them together to find out what is going on in this situation.
Laura is hopeful that someone will find them and that they will be rescued. She's in a place that is going to allow her to feel good that she might be able to get things to work in her favor, and we think that there might be something good going on around here. She's not going to give up her hope even though we think that Kevin has given up. He's been hopeful in the past and it's only been a false hope. He's not going to share her feelings, which might only make things worse for them in there. But, we feel her hope and we think that it's only a matter of time before they are rescued because things are taking a turn.
Stay tuned for more General Hospital and be sure to check out TVOvermind daily for the latest General Hospital spoilers, news, and updates.
Tell us what's wrong with this post? How could we improve it? :)
Let us improve this post!