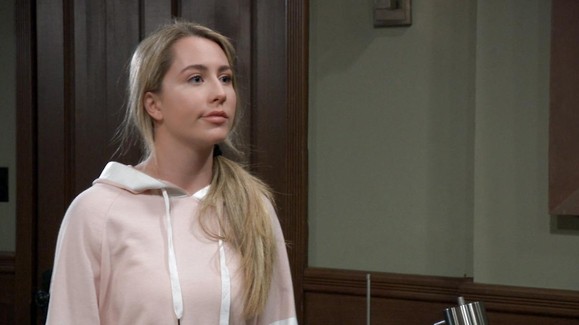 General Hospital fans often wonder if there is any chance we could dislike Peter more than we already do. He seemed like such an unlikable guy when he first rolled in. Then he grew on us when we found out that Anna was his mother and that his brother is Nathan, and then he got to spend some time with Maxie, and we all got to see a side of him that seemed a little bit softer and less messy, but how long did that last before we were back to thinking that he was a total jerk? He's been doing nothing but making Maxie miserable, going behind her back, and doing things that he knows darn well he needn't do. But, he's not stopping, and that's a problem. For now, he's mad that Robert is not distracted enough for him. The man is spending too much time focusing on Peter rather than his own life, and Peter is not amused by this.
On the same side of things, there is a lot happening right now with some other people. We are happy, though, for Nina. She's got some things going on with Jax that we think might just work for her. We all like Jax. He is nothing short of a good guy, and he is certainly nothing like Valentin. He's good for her. He's helping her laugh and he's helping her relax. He's showing her a good time and what a healthy relationship looks life, even if they are not defined and haven't done any real dating. They are having a good time, and we are all just sitting back here hoping that they continue to do this, that it continues to work for them, and that they have more to look forward to in the future of their newfound attraction.
What's Happening on General Hospital
The '90s appear to be alive and well for @RealEdenMccoy and @watroswatros. Wait until you see what we've got in store for tomorrow. #GH #BehindTheScenes pic.twitter.com/ywVJ6134QD

— General Hospital (@GeneralHospital) April 8, 2020
Now here is a throwback we can get on board with.
What's Next on General Hospital
"Nelle is evil. Promise me you'll stop her." #GH pic.twitter.com/g5NrFe8OcD

— General Hospital (@GeneralHospital) April 6, 2020
So, it turns out that we just don't have Friday spoilers for you any longer. There will not be any new episodes on Fridays for the general time being. Until we can come out of this lockdown, and until people can return to work, we have to sit back and allow the show to put in as many old episodes as they can until the actors and crew can go back. This is to help you, even if it doesn't feel like it right now. This is to provide you with extra weeks of new shows while they run short on shows to actually let you see. You'd rather have some serious reruns a day or two a week than watch all of the newly taped episodes and find out that you're out before you're out — if that makes any sense.
So, Friday this week is going to be an encore episode, but the specific episode has yet to be announced as we write this. We think it's all right not to have a spoiler for that one, though, right? You've already seen this one in the past, so you don't need to find out what might happen before it happens. You know what happens. It's already happened. That's' what is so good about this, but this is also just a new reality for all of us who want to see new shows on Fridays and know that it's not going to happen. It's all we've got right now, fans.
Stay tuned for more General Hospital and be sure to check out TVOvermind daily for the latest General Hospital spoilers, news, and updates.
Tell us what's wrong with this post? How could we improve it? :)
Let us improve this post!