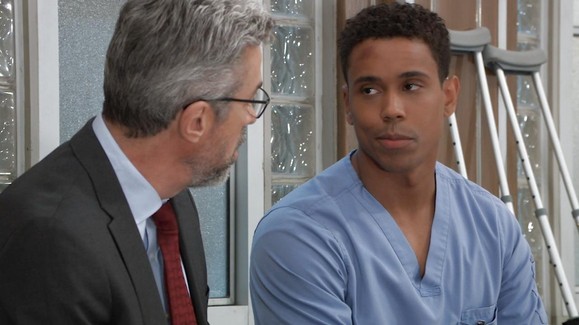 General Hospital fans know that there is a lot going on with Lulu right now. She's had a rough life in which she's had a lot going on that she's been unable to handle. She's got these two babies with men that she didn't even agree to have babies with — she didn't even know she was having either of them, either, until they were born and being raised by other mothers. She's had some things going on, and today we saw her race to Crimson because things are taking an even worse turn for her. Will this woman ever get a break in her life, or will this be her life forever? We cannot answer that, but we can ask whether she's there in time or if she's just too late and doesn't even realize that she's too late right now. She's living a hard life, but she's got to do what she can.
Carly has to do anything and everything she can to help her son after all he has been through, too. She's seen him have the worst years of his life lately, and even getting his son back from the fake dead isn't enough to take the fear and the pain and the worry from his life. He has to worry about her mother trying to take the baby from him, and we all know that Nelle will do anything she can to win and to get the power she feels she needs to win at this life. She is ruthless, and there are also other things going on in his life with Willow and Sasha and more, and his mother has to comfort him. Michael needs his mom right now, and Carly is right there for him during this time.
What's Happening on General Hospital
https://twitter.com/GeneralHospital/status/1254786976424714240?ref_src=twsrc%5Etfw
We hope she had a wonderful birthday!
What's Next on General Hospital
"You start by getting rid of Jason Morgan." #GH pic.twitter.com/wzFsEuqLyG

— General Hospital (@GeneralHospital) April 27, 2020
Cameron and Trina are so young, and we fail to see why they feel that they have to be with one another in the meantime. They are too young for what they are dealing with, but they are doing all this for no reason if you ask us. We struggle to figure out what they see in one another after all that they have had to deal with, but we respect that they want to keep trying. They are working on moving forward right now, even though we think that they need to just go their own ways. They cannot get it together enough to make this work, and they are so young. But, whatever works for them. Or, we should say whatever might work for them if they can get it together enough to see.
Dev is not feeling that there is anything going on that makes any sense right now, and there is a lot of suspicions, but about what? What is there to feel is going on that shouldn't be? Chase has a debate with Willow, and she's not having much of what he has to say. She clearly has feelings for him, but he is also feeling Sasha. Things aren't working for him or for them, and she's not happy with any of this. There's a hurt in her heart she cannot seem to get over, and that is what she is bringing to his attention right now, but she might have something else to say to him. There's nothing else that is going on in her life that is as important as her feelings.
Stay tuned for more General Hospital and be sure to check out TVOvermind daily for the latest General Hospital spoilers, news, and updates.
Tell us what's wrong with this post? How could we improve it? :)
Let us improve this post!