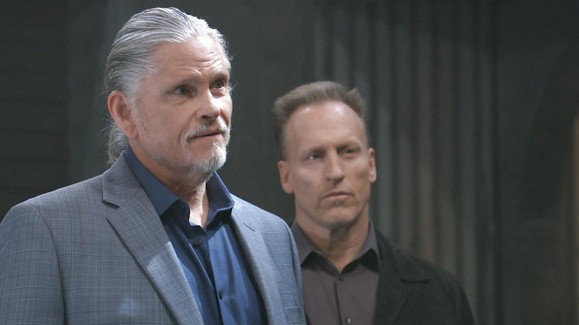 General Hospital fans know that Cameron and Trina are young, but things are getting kind of awkward for us with this one. They seem to want so badly to make things work, but we don't seem to see this happening for them. They seem to want to make things right in their world, but we aren't sure that they can. We are not sure that they can do things that are good or normal, but we do think that they need to move on from this. They are committed, however, to giving this another shot and making it all seem like good things. It's a situation we cannot control, but we are going to see them try and move forward, and we are going to try and see if that works for them. If they are really that into it, we will support their decisions from afar. It's all we can do.
Then there is Chase, who is not in a good place with Willow. They were recently in the midst of a thing, and they seemed like they might have more than they were showing with one another. She turned down the proposal that Michael asked of her, and she went to Chase for comfort and for someone to be with, and he obliged. Then, she saw him make some big changes by making out with Sasha. Now she's frustrated with him. She thought that things were different, but he clearly thought that there was a different situation going on with them. We cannot be sure when that happened, but we think that they might need to have a bit of a conversation. For now, that conversation is all about debating their situation and what is going on in her world. Will this bring them some closure?
What's Happening on General Hospital
🎊Please help us wish @NancyLeeGrahn a very #HappyBirthday! 🎉#GH pic.twitter.com/pJWTsUG5tC

— General Hospital (@GeneralHospital) April 28, 2020
Happy birthday to one of our very favorites!
What's Next on General Hospital
"You start by getting rid of Jason Morgan." #GH pic.twitter.com/wzFsEuqLyG

— General Hospital (@GeneralHospital) April 27, 2020
The problem with everything that is going on right now on General Hospital is that it's not always going to make much sense. We know that Carly has been working very hard to comfort her son, but we also know that he's not really in a place right now where he can make wise decisions that are his own. We don't blame him, really. He's been thrown into a situation that is not something he should have to focus on with his own life on the line. He's been put into a place where things don't make much sense, where he's not in a good place, and where he's not sure how to make choices. But, Carly will not allow this to take him down at all. She's not having it. Cameron and Trina are almost uncomfortable to watch.
They have very little chemistry, they have too much drama, and they are fighting for this for what? They seem to want nothing more than to sit back and be accepted by their families, but at what cost to everyone else? What does this mean for everyone? We have no actual idea, but we know that it's going to be something that might just help them further into trouble. They aren't a good match, but they do make a great team in the friends department. We just don't think that he's mature enough for this, and he's showing that daily. We will continue to see them fight for this, despite the fact that it's a horrible idea, but there is so little we can do to stop them from feeling as if they have a choice. They are in this to win this even if they can't get past this.
Stay tuned for more General Hospital and be sure to check out TVOvermind daily for the latest General Hospital spoilers, news, and updates.
Tell us what's wrong with this post? How could we improve it? :)
Let us improve this post!