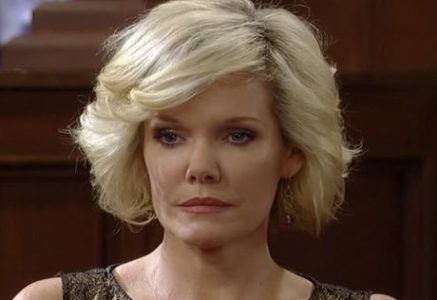 General Hospital fans already know that Ava is going to spend some serious time in jail. We know she's going to leave the show for a while if rumors are true. What we don't know for certain is whether she's leaving the show as a long-term prisoner who is simply no longer being followed until she one day decides to sign another contract and become part of the party again, or if she is going to die. Now that Sonny and Carly know she is the person who took their dead son's medication and switched the pills prior to his death, which is a contributing factor to all that went wrong in his short life, she might just die.
Sonny and Carly might not like one another much right now, but they both love and miss their son. This means they're joining forces again and they are going to take down the people responsible for Morgan's death. That means Ava might want to watch out. She's on their hit list now, and they aren't going to let her get out of things without paying for all she's done to their family. She's become a good friend to Carly, and Carly is going to take that as a double shocker. She let this woman into her life, and this woman was responsible for the death of her son? She won't go well into the future with that, which means Carly is going to be upset.
She and Sonny will not take kindly to the fact she did this to her family, and this is the moment when they get to decide her future. They've made up long enough to find a way to get back at her, and we suspect that she's not going to spend as much time in jail as she suspects. She's going to end up either being their personal prisoner so they can torture her forever — or they will just kill her.
Tell us what's wrong with this post? How could we improve it? :)
Let us improve this post!