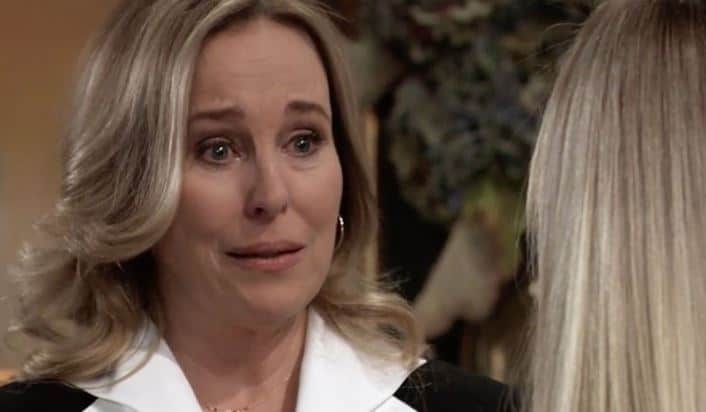 General Hospital fans aren't sure that Griffin and Kiki make the best couple, but we like them. However, we also know that Ava is in the market to do anything and everything she wants to do in her life to make things more complicated for herself. And now this means she's going to go out of her way to try and break up her daughter and Griffin. This means using Sasha, the woman who just showed up as Nina's daughter to make that happen — and it appears it might just happen. We don't know what to think or what to do, but we do know that Ava will go out of her way to make sur that there is plenty going on in her life that will make up for her situation. She won't have much to say about anything other than the fact that she's using this woman to upset her daughter, and that's all right. But we were all shocked to find Griffin in the middle of a sexy encounter with Sasha so soon.
Additionally, we all know that Carly wants to change what's happening at Ferncliff, and she is the perfect person to do it. We watched her lean on Jason to get the help she needs, and we wonder how it will all happen. We also wonder about the time they're spending together and the way they are feeling about their personal lives in the moment. Is there a chance this might all come out in the open and then they find out they have some feelings for one another? It might, and we don't know precisely what to do with that information. It's all a bit new to us, and we cannot decide how we want to see it unfold. But, we do think it will be good.
What's Happening on General Hospital
Sonny and Margaux face off! Always a treat! @MauriceBenard @Theehendrickson @GeneralHospital #GH55

— Frank Valentini (@valentinifrank) November 5, 2018
We love seeing these two on the air together. They might not always get along, but they definitely always have a good time no matter what they are doing. We like that a lot, and it's part of our game plan to get them to come to us with even more of that.
What's Next on General Hospital
"Sorry… am I in your way?" 😳😳😳#GH55 pic.twitter.com/EuOUlTkKYc

— General Hospital (@GeneralHospital) November 5, 2018
Jordan is getting bad news today, and we don't like it. But that's not what we are going to focus on. We are focusing on the fact that Ava is trying to do anything in her power to destroy her daughter, and how that plays into the fact that we think there might be a good chance she's not really her daughter. Perhaps all of this terrible behavior is nothing more than a moment in which she's not able to do much more than sit back and realize there is nothing she can do to make sure her life is not going to get any better. She's a woman who treats her daughter with so much hostility and horrible behavior that we have to wonder if it's because she knows she's not her child. It might play into all of this and being Nina's baby.
But what will happen if that is true and all Kiki knows is a lie? And what will she feel like if she finds out that she is Nina's daughter? Will she be all right with that? Will she be upset with that? Will she be angry about that and work on herself as a result? Will she accept it and move on, or will she just be so glad that her mother is not her mother and that all the horrible things they did to one another are a little bit less terrible at this point? We don't know, but we have to admit we are kind of leaning that direction with this.
Stay tuned for more General Hospital and be sure to check out TVOvermind daily for the latest General Hospital spoilers, news, and updates.
Tell us what's wrong with this post? How could we improve it? :)
Let us improve this post!