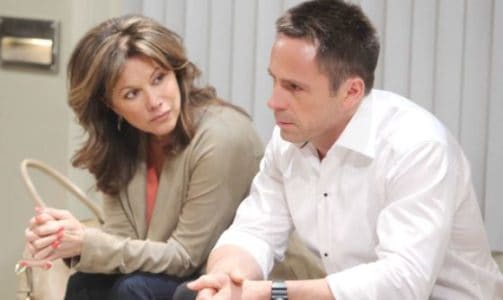 General Hospital fans know Julian and Alexis belong together, but these two have some deep-rooted issues with one another. Scott is definitely worried about what might happen to Julian if Alexis takes the stand at his trial, and that might be a problem. In fact, it might be such a problem that we suspect there might be a chance that these two will have a quickie wedding again very soon. If she's married to him, she can't be asked to speak against him in trial.
We have a feeling this is the way that Scott is going with this situation, and we think there is a good chance it will happen. But will Alexis be all right with it? With all that Sam is going through with her health, her mother might not want to do anything that will upset her, and we know that Sam isn't a big fan of Julian these days.
She did what he told her to do when she was ill and he was taking advantage of her situation, and now she might fear that he's done something even more awful to her. If she finds out her mother is considering marrying him again, she might just face some serious setbacks with her recovery. We don't think that Alexis will do that to her in order to save Julian. But we suspect this might turn into a storyline. Don't quote us, of course, but we do have a sneaking suspicion this is a possibility.