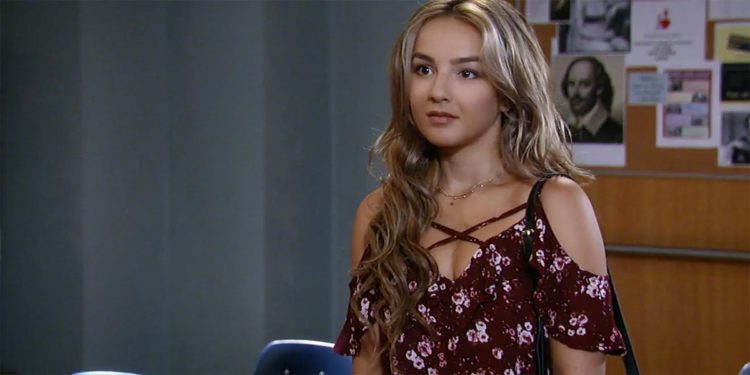 General Hospital fans are fresh into seeing things not work out with Jason and Sam, and that makes us sad. We love them. They are the best, and we love every single thing that they are for one another. But, there is nothing we can see working out for them right now. We can, however, see that some things might work in their favor in the moment, but we know that they may not get back together in what we feel is a timely fashion. You see, their lives are complicated. And their lives are not that good in the moment, and that might not work. But, there are other couples we want to discuss today. For example, the ones we never, ever want to see get back together (thanks, Taylor Swift), but that we do think will end up back together again.
Nelle and Michael
We worry about this one, but not for the reasons that might seem obvious. You see, we think that there is more to this than meets the eye. We think that he will end up back with her. We think that Nelle will end up out of prison. We think that she will end up living her life out of the prison cell she was in, and that her secret will come out, and that she will fight for custody of her baby. She will do all those things, and we think that Michael will do anything and everything he can do that will help him get to his son when this all happens. He will want his son. And she will want their son, too. And he will do anything it takes. We think that there is a chance he will use her. He will get her to fall for him all over again — because we do think that she did love him — and he will get her to think that he also loves her, and things will become a huge mess in their lives, and this is it. He will use her, take her down, and she will never come back.
Julian and Alexis
Let's get a little something straight here. We love them together. We think they are the loves of one another's life, but we also know that they are poison. They bring out nothing but the absolute worst in one another, and they are not good for one another. They are a mess together, and we know this. We know that they will never work. We know that they will never be happy together. We know that they will never make good choices. And, we know that they will never, ever, be happy. But, we think that they will end up together again at some point. Our only hope is that he grows up and changes his life so that he can be good enough for her — because he really just isn't and we all know it — and we hope that they can make this situation work in their favor.
Jax and Carly
Sadly, we don't see Carly and Sonny making their marriage work this year. With everything they have been through in the past few years, we don't see them making it work. we don't see them making it happen. We think tha they are too much of a mess with one another right now, and we don't think tha the can forgive her for taking so much of her time to spend with Jax while also keeping his secrets and lying to him about all that is going on, and we don't think he can forgive her for that. She will end up spending more time with Jax. They will fall back in love, she will be with him again, and only then will she realize that she belongs with Sonny. We just don't think that there is anything that will work for them. But, what can we do about it that will work out for us? We really don't know, but we do know that there is so much that will change in the long run. It's a long time coming, but it is coming and we won't be that surprised when it does.