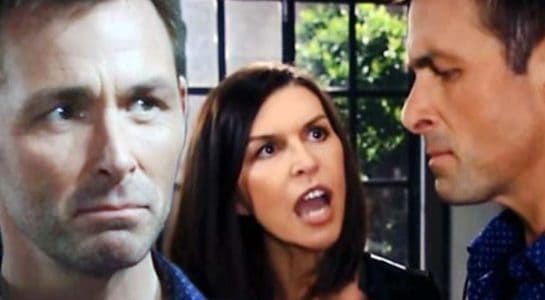 General Hospital spoilers are always fun when they involve Anna. She's the double-agent who is working hard to make sure she gets all she wants out of life, and she's recently found out that her evil twin sister did some horrible, terrible, not so good things to her many years ago. This involves pretending to be Anna to seduce a young Valentin so she could get secrets from him and set him up as the double agent responsible for allowing her to get the information to the other team. When Valentin showed up in Port Charles looking for revenge, it made Anna wonder if she was losing her mind.
She has absolutely no recollection of the memories Valentin offered her, and he thought she was just pretending. In fact, she was so confused she thought she was losing her mind. It turns out she's just fine, but she was duped by her evil twin. Now she's managed to find out the truth and share it with Valentin so he is aware it was not her who did such evil things to him.
Or did she find out her sister did this? She's going to tell Valentin it was really her, but she was hypnotized and not at all aware of what she was doing. We simply don't know what to believe anymore, but we do know there is a lot of question about what might have happened. We know this, however; there is going to be a moment in the near future when Anna and Valentin take their feelings to the next level. They seem to have feelings for one another they cannot ignore, and it seems that they are going to find a way to make sure they are together. Neither of them seems to care at all that he's married to Nina or fighting Lulu for custody of the little girl he shares with her. It's an ugly situation, and it's about to get a lot uglier. Will Anna's depression become worse when all this goes down?