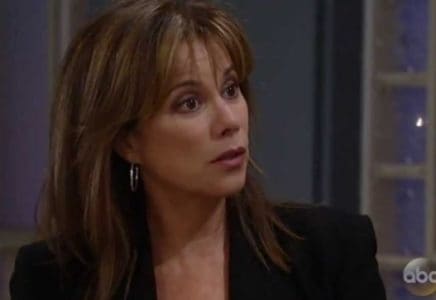 General Hospital spoilers are all about how Alexis is going to cope with Julian's sentence. Twenty years in prison is a long time, and she's not happy with that. She's got to make a decision, and we hear that she's going to forget all about him and work on moving on with her own life. It really is the only thing she can do when the man she loves is in jail for this long. It's not something she's really good at working on, but we suspect she can help herself get over what's going on in her own life if she's able to put forth the effort.
Can she really forget him? Will he really serve that long? Will she really do this? And when she has to tell her daughter what is going on, will it all work out for either of them? We suspect this will not go as planned for anyone, and we can't help but be excited.
We don't really know where Sam stands in terms of her feelings for her father right now. Is she still so unhappy with him she doesn't care that he's going to prison for the next two decades? Or does she care more than she feels she cares? We don't know, but we will when Alexis has to tell her what is going on and how it' going to affect her. Will this be a problem, or will she feel some relief about her father's sentence?