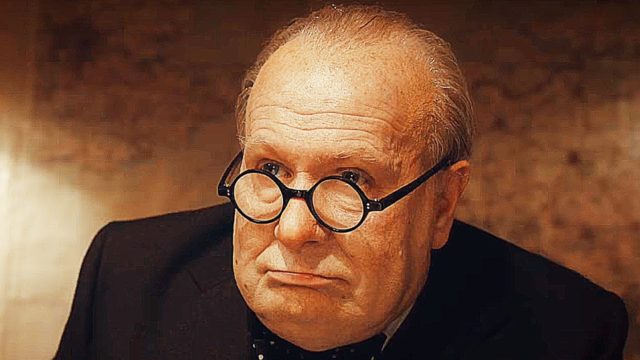 We seem to be getting a good taste of Sir Winston Churchill lately with an abundance of movies and even a TV show that depicts the character. But we believe we've yet to see the best portrayal out of them all. Coming from a slew of supporting roles, albeit in great films such as Lawless, The Dark Knight Rises, Dawn of the Planet of the Apes, and most especially Tinker, Tailor, Soldier, Spy, Gary Oldman is ready to be the star once more. And that he does ever so brightly portraying one of the most profound characters in all of the world's history in the upcoming political drama film, Darkest Hour.
With Joe Wright as director and Anthony McCarten as writer, the British war film is already off to a great start. It follows Churchill as acted by Oldman during the first month of his governance after being officiated as Prime Minister. This was around the time when Hitler and his army were just closing in on Britain during World War II. It was a crucial time for the country, and many looked on to Churchill to lead, and he led with the greatest resolve no other man could deliver. We know the history as the books have written it over the years, yet we haven't seen the story told by an actor as evolved and exhilarating as Oldman. The amount of make up alone took over 200 cumulative hours throughout filming to be applied. Yet we see every minute curl and spec of emotion flutter as Gary Oldman sees it fit, and we become witness to one of the best performances of a man yet to give us his prime.
Oldman is also joined by a cast that's to be envied, especially if you were to vie for some recognition. Ben Mendelsohn is effective as King George VI, with his own demons and troubles to resolve, serving as Churchill's closest ally in a time of enemies. Kristin Scott Thomas plays Churchill's wife, Clementine: brilliant and utterly necessary for Britain to win the war. Then, there's also Lily James as Elizabeth Nel, Ronald Pickup as Neville Chamberlain, and Stephen Dillane as Foreign Secretary Lord Halifax; all of them equally astounding and believable.
Darkest Hour is the one for Oldman, the role for which he was made to breathe life into. While the Academy has passed up on many, many opportunities to honor such a legendary actor, we know better. And this movie just proves us right all along. While talks of Oscar-worthiness are floating in the air with the production of this movie, we've handed Oldman plenty of golden men for a million of his previous performances. Except, perhaps, since you've never seen him play Sir Winston Churchill before, you are yet to see what the man can really do with his limitless talent.
Darkest Hour premiered at the Telluride Film Festival on September 1, 2017. It's set to have another premiere at the Toronto International Film Festival on September 10, 2017. Wide release in the theaters is set for November 22 in the US and December 29 in the UK.
Save
Tell us what's wrong with this post? How could we improve it? :)
Let us improve this post!