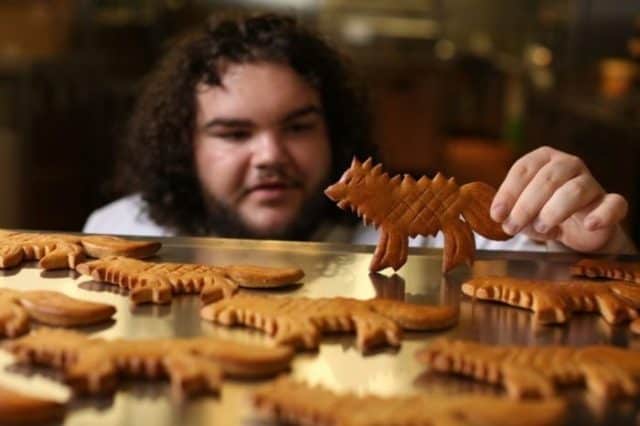 A lot of actors have side projects, promotions, and even jobs that they participate in when they're not on screen, but few of them ever really take what they learn from their respective films or shows and apply it in this manner. Ben Hawkey has been portrayed as Hot Pie on the popular HBO series, and to date he's been shown as quite the baker. In real life Ben has allowed his passion and his role take him down an interesting career path that seems to be largely inspired by the show. His Game of Thrones -themed treats have become quite the rage in London and have made him quite a success.
So what is his specialty?
The dire wolf loaf is the one thing he makes that is continually on the move.
If you can recall from the show Hot Pie gives Arya a loaf of bread baked into the form of a dire wolf not long before they part ways. He gives another loaf to Brienne of Tarth when they encounter one another, but this one has been crafted in a far superior manner, meaning that Hot Pie was getting quite good at what he loved to do. Hawkey has continued that practice and has become an expert at making dire wolf loaves in his bakery. These loaves are so popular that Hawkey had to stop taking orders only ten days after his bakery opened, but there is hope that he'll be firing up the ovens once again to continue making more. It looks as though he's been making cookies, or perhaps biscuits as well, so it's safe to say he's learning how to diversify to satisfy his customers.
The name of his bakery is You Know Nothing John Dough
If you're a fan you know exactly where this comes from. The favorite saying of Ygritte to John Snow was "You know nothing John Snow." While we might like to argue with the fiery redheaded wildling the name is a crafty play on words that might indicate that Hawkey's bakery is in some way connected to GoT. There's been no real word on this yet however and HBO execs haven't been available for any confirmation or discussion.
The only way to get your product from this bakery is through online delivery.
Hawkey uses the UK delivery service Deliveroo, which will deliver people's baked goods directly to their door. He's been doing a tremendous amount of business since opening and is expected to keep doing well. There's no doubt his menu will increase in the times to come but so far his dire wolf bread loaf is turning him a handsome profit. Each loaf only costs about one British pound, which is a little over a dollar in American currency. To be honest that's not a bad price for something that looks so good.
So far Hawkey has been doing great business and doesn't look like he's about to stop. As Hot Pie on GoT he's made quite a name for himself as a baker. In real life he's doing much the same.
Save