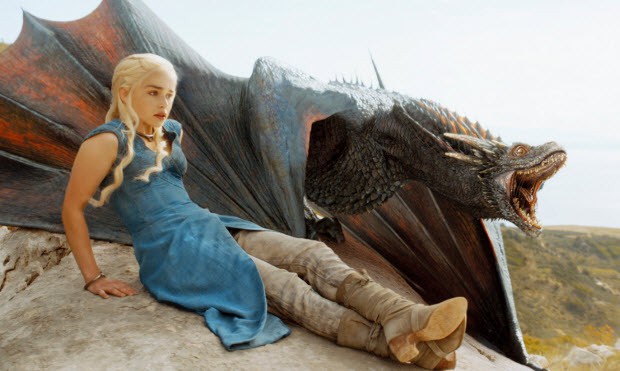 Of the many fantastic individual moments that comprise the mosaic of Game of Thrones' fourth season premiere "Two Swords", the most resonant of them all comes from Maester Aemon during the end of Jon Snow's brief "trial" at Castle Black. When Snow confesses that "he lay" with a Wildling girl, Aemon points out to Allister that if every man in the Night's Watch was held to their oaths, "the wall would be guarded by headless men". Like many other things in the world of Westeros, words are a currency: they can be bent, sold, borrowed, demanded, manipulated, or withheld – and like power and money (the two other currencies of Game of Thrones), they're never things people seem able to keep.
In the wake of the Red Wedding, "Two Swords" opens on a world divided in two (something beautifully signified in the opening sequence, when Ice, Eddard Stark's sword, is melted down to form two new swords by Tywin), split between the remaining kings on the battlefield, Stannis and Joffrey, whose wedding to Maergery grows near. To many, it appears the war is finally over; and without any sight of Stannis in the episode, it certainly feels like the war is over when Tywin drops the body of Grey Wind into the fire that forged the new Valyerian swords (fun fact: there's only three blacksmiths who are trained in the dark arts of forging Valyrian steel, which involves magic).
But in the wake of this uneasy peace forged from the Walder Frey-hosted massacre from "The Rains of Castamere", the Lannister family continues to fracture. The family Jamie left in season one is not the family he returned to: Joffrey's grown into an insolent, insufferable human being (one who makes statues of him on top of dead wolves, because he's such a war hero), Cersei's an angry drunk, and Tyrion's married to Sansa and wanted dead by his little nephew, the King. These are not the Cosbys, folks: the more deceptions, half-truths, and blood-soaked deals these people make in the name of their family, the more said family falls apart behind closed doors.
Again, the duplicity of language: what appears to be an organized, united front is a family full of hidden secrets and broken oaths, whether the Kingsguard's oath, the loyalties of marriage, or the long-respected customs (like those stating that weddings are events of peace, not massacre). And the more the Lannisters lie to themselves about who they are – Joffrey a war hero, Tywin's self-righteousness, Cersei's selfishness – the more it becomes clear that the shadow of the Lannister's reputation hangs longer and darker than that of their actions – a karmic imbalance that appears ready to break, with numerous threats forming around them in King's Landing, the North… and even beyond the Wall, where Mance and his united army of Wildlings are marching towards the Wall (and a much darker, malevolent force follows somewhere behind them).
There are storms brewing all over "Two Swords" – and like the calm before a storm, there's a palpable tension in many of the episode's moments, even though it's largely an uneventful hour (save for the Hound's pre-chicken fight, which finally returned Needle to the hands of an increasingly deadly Arya). It's an hour focused on small moments – the arrival of Oberyn, Jamie's return to King's Landing, Road Trippin' with Arya & The Hound – but continues to push other stories forward in these moments, like one of Cersei's handmaidens overhearing an argument between Shae and Tyrion (another pawn to be used by her in the everlasting pissing match with her little brother), or Ygritte's new companion Styr, a dangerous, cannibalistic (and scarification-friendly) segment of Mance's large army marching south.
A few pawns have been removed from the war table of Stannis, burnt in Melisandre's fire like Eddard's sword – but the embers from them still remain, whether it's the daughters of the Stark family or Maester Aemon, who spares the life of the other Stark child, Jon, while Castle Black prepares for any number of possible attacks to occur in the future. And while everything sits in this stasis, "Two Swords" pauses for a few moments to continue to poke holes at the given institutions of Westeros, how oaths and family lines and all these other factors fall apart in the face of things can't be measured or compromised, like love, vengeance, or evil. Again, as Maester Aemon points out, "none of us are free" – whether its life circumstance, bad decisions, or the constructions of society, every character in Game of Thrones is trapped by something (even Tywin Lannister, who never seems to leave the walls of King's Landing, not even for a moment), and willing to do just about anything to escape it.
Other thoughts/observations:
– welcome to my Game of Thrones reviews (if you want to read any of my past reviews, check them out here). Only one rule here: if it's not happening on the television show, I don't discuss it,so no spoilers in the comments on anything that is to come.
– next week's episode, "The Lion and the Rose", is this season's George R.R. Martin-penned episode.
– Jamie doesn't want to leave the Kingsguard, if only to protect Cersei. Plus, fighting left-handed makes it "a bit more of a challenge", something Jamie's always looking forward to.
– the act of sewing Grey Wind's head to Robb's dead body (something seen by Arya at the end of "The Rains of Castamere") is an image that seems to haunt all of Westeros.
– Daenerys is having a little trouble with her three dragons, who are becoming the fire-breathing equivalent of angsty teenagers.
– By the way, she's also traveling on the road to Meereen, greeting by a dead slave child marking the way every mile (for 163 miles).
– There's a moment with Sansa that appears to be something to keep in the back of our minds through the season: Ser Dontos (the drunk from season two's tourney) returns for a cameo, creepily tracking down Tyrion's future wife to give her a necklace. WTF?
– The Hound, at his cheeriest: "Lots of c**** name their swords" (and for good measure, a hearty "F*** the king!").
[Photo via HBO]