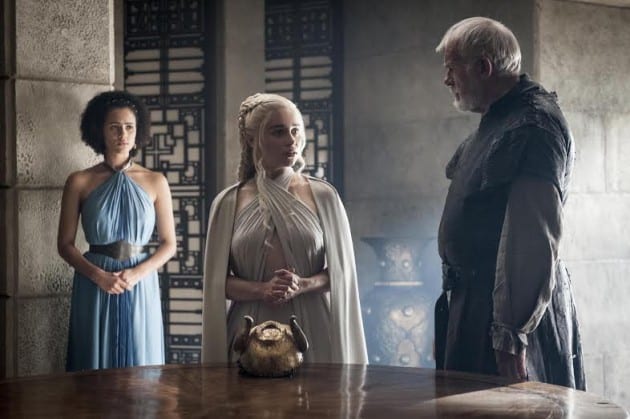 With the War of the Five Kings over and the many challengers to the Iron Throne at an impasse, Game of Thrones' fifth season faces a number of interesting new challenges. The most obvious of these – the fact that the show's beginning to outpace its own source material – is oft-discussed, but Season 5 of Game of Thrones also faces the monumental challenge of any epic story in the middle of a lengthy second act, with the massive set of characters and sprawling landscape working against the show's ability to engage viewers with its moral and emotional complexities. There are no impending weddings, and for the moment, no two armies breathing down each other's necks – and unsurprisingly, this gives the show incredible room to breathe.
The first thing most people will notice about "The Wars to Come" is how tunnel vision its focus is: save for a few outlying scenes where Sansa and Brienne briefly cross paths, the season premiere is concerned with Mance's execution, Tywin's burial, and Tyrion's escape. Although this involves a number of other major players, the focus of "The Wars to Come" is very straightforward, streamlining story in a way that Season 4 often struggled mightily with. Opening on a Cersei flashback, "The Wars to Come" says farewell to the old guard of Westeros and emerges us in a kingdom in flux, as the remaining power players gather themselves for the coming winter and wars, which naturally provides an avenue into smaller-scale storytelling. The deaths at the end of last season didn't create the power vacuum one might've expected, instead throwing the world into an intriguing, though obviously temporary, stasis.
With that lack of external action, "The Wars to Come" can double down on those characters searching for a new direction, primarily Cersei, Tyrion, Dany, and Jon Snow. All four are dissatisfied, finding themselves in less-than-ideal situations where it feels all power and freedom has been removed from their hands. Though Mance sits in handcuffs and gets burned alive at the end of "The Wars to Come," his fight for the "freedom to make his own mistakes" was an ideal he never sacrificed, something Jon Snow can't say he's done in his own life. As it often does, an extreme loyalty to any specific ideal gets one killed (RIP Ned) – so when we see Jon puts an arrow in Mance's burning chest, it's a telling sign of both the fury and the mercy that rests within the bastard of Winterfell.
And ultimately, it's these internal conflicts like Jon snowing weighing his own humanity (boy, the way Melisandre grins at him is unsettling), and Cersei again facing the responsibility of her own actions (and again, blaming them on her brother, though she throws him an underhanded compliment) that are the meat and potatoes of Game of Thrones – as Tyrion points out, both the past and the future are bound to be "full of s***," because the world will always be about the ascend and descent to power, and the horrors that go along with it. Sure, we love massacres, betrayals, and power struggles, but those moments are only rewarding within a textured world full of interesting, layered characters (after all, this isn't a story that ever ends – unless winter comes and destroys everything once and for all, of course), and "The Wars to Come" understands this, zeroing in on a specific collection of locations and a small set of characters facing the same spiritual issue.
All four of these characters, despite their various positions of power, find themselves disillusioned with their current places in Westeros, tempted by evils that seem lesser by comparison of what they face elsewhere. The Spider, the "Sons of the Harpy" faith Lancel's joined, Melisandre and the Lord of Light… all of these things are temptations placed in front of characters, pushing them forward in this journey of figuring out who they are. "The Wars to Come" works, ultimately, because it doesn't try to present a definitive answer for any of these people – except Jon Snow, who we are again reminded is slowly becoming the most compassionate solider on either side of the Wall.
"The Wars to Come" also benefits from one major improvement over last season: after one episode, Dany's story already has more trajectory and depth than her stunted, inconsistent rule of Meereen. There's assassins on the loose, scary teenage dragons, and a queen who is trying to toe the line between strong leader and inspirational figure – and understanding that there really isn't any middle ground to be found between the two. Daario points out there is beauty to be found in the ugliest corners of the world, but it's a truth Dany is still struggling to face. "The Wars of Come" really engages with this conversation in the limited amount of time we spend with her in the episode, leaving us with the final, haunting image of her frightened face after visiting her last two remaining dragons, facing the very relevant fact that a queen of dragons, without her dragons, is not really so much of a queen at all.
Like many season premieres for Game of Thrones, "The Wars to Come" is constructed to guide viewers back into the rhythms and many, many, many storylines of the show, and there's no better way to do that then by whittling down what stories it focuses on as much as possible. Sure, "The Wars to Come" leaves many important hanging threads from Season 4 left unresolved, but given the show's slight retinkering in the off season, Season 5 should ultimately benefit from this new structure in coming episodes.
[Photo credit: Helen Sloan/HBO]