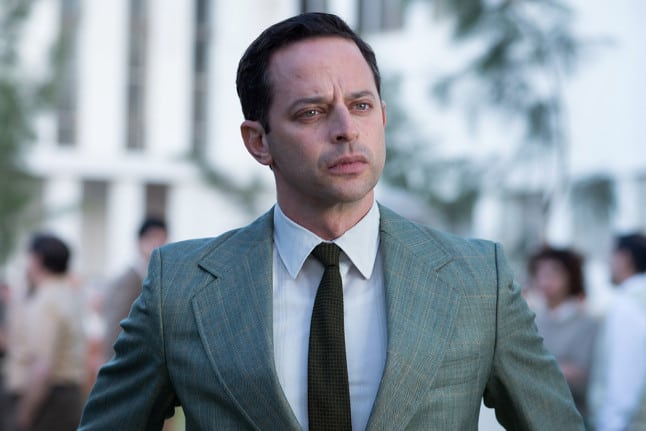 "Kroll Show" season 1 contained possibly the funniest moments from Nick Kroll's career as he's a multitalented character creator and actor of incredible comedic talent as well as the driving force behind a lot of well-known current comedy. Kroll Show was the perfect showcase of Nick Kroll's skills as not only an actor but also as a creator and a writer as well. The Comedy Central sketch show only lasted 3 seasons but those 3 seasons were loaded with glorious, memorable moments that only Nick Kroll's unique touch could bring to life. Some of Nick Kroll's characters have even made appearances on "Comedy Bang Bang" and another sketch entitled "Oh, Hello" even has its own Netflix special from Kroll and John Mulaney. Nick Kroll's most recent project is the Netflix animated hit "Big Mouth". Below we're going to rank the 20 funniest moments from season 1 of "Kroll Show" and its many, many characters portrayed by Kroll and friends.
20. Kroll Show – San Diego Diet Mindset
San Diego Diet is a sketch that parodies pyramid schemes, diets, and all-around television ads about losing weight or supplement programs that generally premier late at night. While the sketch is hilarious, it doesn't quite stack up compared to the rest of the moments selected for our "Kroll Show" funniest moments list. Overall, San Diego Diet purposely looked like the budget was low quality to reflect on how ridiculous most of those ads could be and truly showcased it well, with comedic purpose.
19. Wheels Ontario – Roll With It
Wheels Ontario is one of several reoccurring shows within "Kroll Show" that we see come back in different ways throughout the show, essentially through different episodes. Wheels Ontario specifically parodies Drake's character in the teen drama Degrassi as it features a school of students in wheelchairs; much like Drake's character in the show after he was shot. Overall, out of the several Wheels Ontario sketches, Roll With It featured Kathryn Hahn who helped make our list of funniest moments from "Kroll Show" season 1.
18. PubLIZity – Pitching A New Client
PubLIZity was possibly one of the most fan-favorite shows featured within "Kroll Show" as it now only featured Jenny Slate, but it also showcased Kroll playing one of his most interesting roles. Surprisingly, Nick Kroll adds a lot of personality to his female characters on everything he gets to chance to portray one in. PubLIZity showed the actors portraying some of their most outrageous moments from season 1 of "Kroll Show" but Kroll's performance alone could have landed this sketch on our funniest moments list.
17. PubLIZity – Dr. Armond Is Here For You
"Kroll Show" had its most dull personality comes to life, somewhat, in Kroll's Dr. Armond role which featured him as a veterinarian that gets his own spinoff of his personal life. Over the course of this character's appearances, we saw the character and the characters associated with him get their own spinoff series as well. As shown in the sketch, Liz brought her dog to Dr. Armond to make her dog more attractive and from that moment forward we started to get better insight into the life of Dr. Armond, making this one of the funniest moments from "Kroll Show" season 1.
16. Ref Jeff – Overheard on the Court
Ref Jeff was a character from "Kroll Show" that didn't get too much attention outside of season 1 but what we saw from him in season 1 was quite the range of personalities. Throughout the several personality traits we got of Ref Jeff on the court he was lonely as he asked players what they were doing after the game and we saw that he was also assertive on the court. However assertive on the court he was, he appeared to just get in the way of players and fell down. Overall, Ref Jeff didn't make too many appearances but the sketches we got with him were among the funniest from season 1 of "Kroll Show" due to his willingness to throw himself to the ground.
15. Kroll Show – Demo Monster
Demo Monster was a sketch from season 1 of "Kroll Show" that featured a surprise feature of Ray Wise, who makes several appearances throughout "Kroll Show". In the scene that made 15th on our funniest moments from "Kroll Show" season 1, Kroll's character was in a business meeting, with Wise leading, and unveiled a robot that could measure demographic response. Kroll's character shows his pitch to the robot and the character enjoys what it's shown at first until one of Kroll's other characters from PubLIZity appeared on the screen and the robot killed Kroll and the television.
14. Ref Jeff – Back on the Court
Yet another Ref Jeff moment making funniest on our "Kroll Show" season 1 list is when Ref Jeff is accompanied by another referee portrayed by nonother than fellow Comedy Central alum Jordan Peele. Since this moment and his own show, Key and Peele", the actor has since gone on to directing and has released several movies with his name front and center. What we considered one of the funniest moments from season 1 of "Kroll Show" featured very strange moments between Peele's character and Kroll's character which ended up with them playing some basketball together in the middle of the game.
13. Oh, Hello – Basketball
Oh, Hello is possibly the most famous show within "Kroll Show", with the characters featured becoming more popular than Kroll Show itself thanks to Kroll and Mulaney bringing the characters and their theme to Broadway for a Netflix special. As stated in this list so far, Kroll has quite the relationship with Netflix, as well as Mulaney who also plays a big role in "Big Mouth". In the scene from "Kroll Show" in which the characters portrayed by Mulaney and Kroll below try to play basketball with locals in a local park does not go well. Overall the characters act to be much more fit and aware of their surroundings and how to play the sport than they actually are.
12. Fabrice Fabrice – What This Is
Fabrice Fabrice was without a doubt one of Nick Kroll's most interesting and funny characters as it featured Kroll as a constantly failed fashion and designer wardrobe stylist. Kroll's Fabrice Fabrice character has been featured on hit comedy podcast and IFC show "Comedy Bang Bang" that both featured Scott Aukerman as host. Fabrice Fabrice was a very eccentric character and has quite interesting conversations, if you can call it that, with bystanders.
11. Kroll Show – Drones
Drones was one of many "Kroll Show" sketches that were a standalone segment that featured a character only once or during one episode and showcased a hilarious situation. In this sketch, Kroll portrayed a Drone pilot and he is just as lifeless as you'd expect someone in the position to have to be, however, Kroll added something a little extra to the character. What made the moment to be one of the funniest from season 1 of "Kroll Show" is the overall, unnecessary dramatics applied to Kroll's job of sitting in a chair with his mouth open and drinking energy drinks.
10. Rich Dicks – Shopping
Rich Dicks was certainly one of the most interesting storylines to follow and funniest by far compared to some other sketches that have been featured on the show. This Rich Dicks moment that we consider one of the funniest from season 1 of "Kroll Show" featured Kroll and John Daly going shopping and as with most other things that these characters do, they had no idea what they were doing.
9. Kroll Show – Beats & Rice
Beats & Rice is yet another one of the sketches from "Kroll Show" that featured in just a single moment or episode and then never appeared after that but sometimes that's all it takes to make a memorable moment or sketch that fans won't forget. In this musical moment that we've considered as one of the funniest featured Kroll and two others in a music group that gets sent through the hilarious motions of being in the music business and working for several brands instead of yourself.
8. Secret Room – Screws
One of the most interesting and certainly darkest sketches from "Kroll Show" the Secret Room sketch, Screws, in which Kroll's character and his wife are building a room with a Screws employee and entrap him inside. The entire sketch became dark pretty quickly, even as the employee was aware that the couple was building a secret room, as all three of them have stated that they've been kept in at one time or another.
7. Kroll Show – Armond of the House
Earlier in our funniest moments from "Kroll Show" season 1 list we mentioned Dr. Armond and his own spinoff, well that spinoff is called Armond of The House and featured the doctor, as well as his wife and son. If Kroll's son from the various sketches that featured Armond's family looked familiar it's because he's portrayed by actor and comedian Andy Milonakis. Although it's Nick Kroll's show, I'm sure he influenced the choice in Milonakis and loved him getting maximum screentime.
6. Rich Dicks – Last Of Our Stash
As stated earlier, Rich Dicks was easily one of the most popular and funniest "Kroll Show" sketches but in the moment featured below, the characters ran out of their stash and needed to resort to new means in order to acquire more. With this stressful moment for the characters, we see their struggles come to light and truly how disastrous they are to themselves and everyone around them.
5. Kroll Show – Adventures of Young Billy Joel
Adventures of Young Billy Joel is yet another individual sketch from "Kroll Show" season 1 that made one of the funniest moments in the season's history of the show. If the name alone didn't explain what the sketch necessarily revolved around, it featured jokes made into actual moments of what was to be believed as actual things done by Bily Joel, according to his songs. What made this moment to be one of the funniest moments from season 1 of "Kroll Show" was the overall ridiculousness of the entire sketch.
4. Rich Dicks – Car Trouble
Fourth on our "Kroll Show" funniest moments from season 1 is what we considered the funniest Rich Dicks sketch featured the two wealthy characters waking up to a car crash and literally leaving their car behind. The characters left the car behind because they really haven't been good at anything, especially when it came to real responsibility. Overall Rich Dicks remained one of the most outrageous and funniest moments from season 1 of "Kroll Show" due to the incredible chemistry between Kroll and Daly.
3. Oh, Hello – Too Much Tuna Part 2
Without a doubt, one of the funniest moments from not only season 1 of "Kroll Show" but the entirety of Nick Kroll's career and "Kroll Show" in general. The specific scene mentioned below was not just one of the most popular sketches but it was the second time that this sketch was done, however, the actor and situation changed. In part two of Too Much Tuna, the sketch that helped grow the "Oh, Hello" characters to the point they are at today, the actor that was given too much tuna was Joe Mande.
2. Bobby Bottleservice – Ghost Bouncers
Bobby Bottleservice is certainly one of Nick Kroll's most interesting roles to have appeared on "Kroll Show", not only has been a clearly strange bartender type guy but is also apparently a "ghost bouncer". Being a ghost bouncer is pretty similar to being a ghost investigator but is more of a bouncer with the aggression and removal of ghosts via screaming and threats. Overall, Bobby Bottleservice is another ridiculous character from Kroll but he portrays the character so well that the cringe can be ignored for the comedy.
1. Oh, Hello – Too Much Tuna
At the very top of our list and what we considered to be the funniest sketch and moment from possibly all of "Kroll Show" but definitely the number one hilarious moment from season 1. "Oh, Hello", as stated above, are most likely the most popular characters from not only "Kroll Show" but from Kroll's career in general. In the sketch, Mulaney and Kroll as their old, Hollywood-reject alter egos. While the characters portrayed are from "Oh, Hello", the entire premise that they end up reaching towards is to get their guest to exclaim "That's Too Much Tuna!", which will forever be associated with the characters.
Tell us what's wrong with this post? How could we improve it? :)
Let us improve this post!