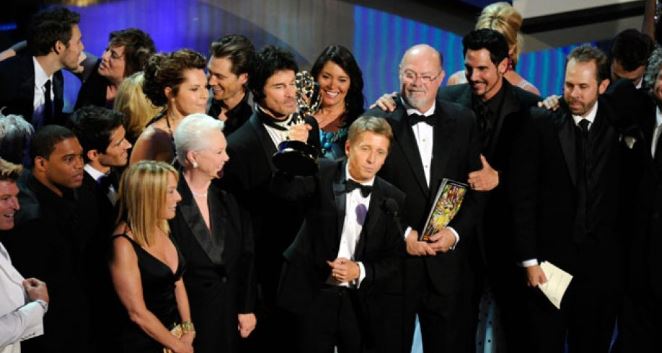 The Bold and the Beautiful is the single youngest soap opera on the air. It's only been around since the late 80s, which makes it a baby soap in modern times. It's a show fans love, though, and it's around to stay. They've been watching in the tens of millions every day for the past three decades, and it doesn't appear that this will stop anytime soon. That means the stars, the show, and the staff of this production have spent a lot of time earning Emmy wins, nominations, and recognitions, and we thought we might break a few of those down for you tonight. They're good stuff, so you're going to enjoy this.
Emmy Wins
The B&B has won approximately 63 Emmys since it was first recognized as a soap on the air the year it premiered. We say approximately because it's right around that number if we missed one or two in either direction. They've won a lot — and that's not exactly surprising. The show is amazing, and they seem to find a way to take their wins home more often than they don't in many instances. They keep up with shows that have been around a lot longer, and that's impressive stuff.
Emmy Nominations
With approximately 200 Emmy nominations, it's not a big surprise that this show is such a success. They do good work, and they do it well. They make sure that their cast and crew are always on fire, and they are always winning nominations. Even if they don't win all of the awards for which they are nominated, they are still nominated. It's not easy to go up against other soaps that have been around decades longer than they have, and that's big to win so many awards and to find yourself nominated with so many greats.
Major Category with the Most Wins
The crew of B&B wins all the time. They get the most awards for things like lighting and costumes and makeup and hair and everything else, and it's not a surprise to any of us. However, there is one category in which the show has collected a lot of wins in comparison to other major categories. And that's the category of Outstanding Lead Actress in a Drama Series. We're not surprised, and you probably know who has the most wins in this category, too. With five wins in this category, it's the most winning of all. And the beautiful Susan Flannery, who played Stefanie, won three of those. Heather Tom won the other two. She's Katie.
Major Category with the Most Nominations
It's not surprise that the women kill it on this show, and that's why there is a tie for the category with the most nominations. With 14 nominations each, it's the Lead and Younger actresses who take home the most nominations of anyone else in this entire show. Of the 14 the younger actresses were nominated for so far, as of 2018, three of the four wins have been for Jennifer Finnigan for her role as Bridget Forrester.
Star with the Most Wins
There are two women on this show who tie for the most Emmy wins since taking their roles in B&B. That's the lovely Susan Flannery and the beautiful Heather Tom. They've been good at their roles as Stefanie and Katie for many years, and they prove it time and time again with their wins and their ability to take home the trophy so often.
Category with the Most Losses
Out of 10 nominations, the Outstanding Supporting Actress in a Drama Series has only taken home one trophy. That was for Heather Tom during her time as a non-lead character. Her role as Katie goes back and forth sometimes, and this is one time she won when she spent less time on the air.
Least Nominations in a Major Category
The men can't pull it together around here. The Lead Actor in a Drama Series has only earned five nominations in the history of the show, and only one of those is a win. That win went to Scott Clifton in 2017 for his role as Liam Spencer. Not even the patriarch of the Forrester family has taken home a win despite his three nominations in this category.