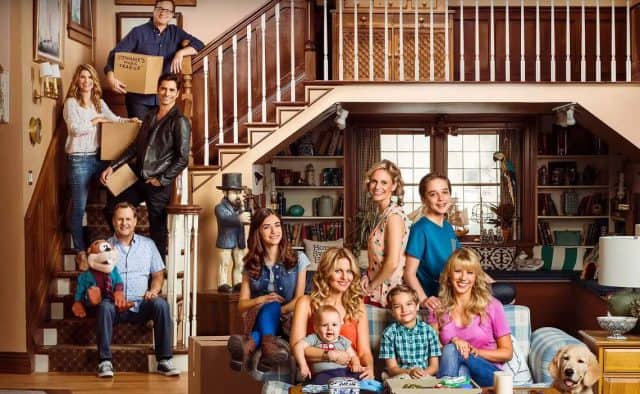 "Whatever happened to predictability…You miss your old familiar friends, but waiting just around the bend". Fuller House arrived on Netflix last year with much anticipation (from fans old enough to remember the classic Full House) and intrigue (from those who weren't). And in many ways it delivered exactly what was wanted, and expected. Sentimental throwbacks, in-jokes, the next generation of adorable and hilarious TV kids to fill the Michelle Tanner role and plenty of laughs. The show also felt fresh from the off, like a polished Disney Channel original series with bright colors, technology front and center and laughs to be found at every turn.
The first season can lay claim to being one of Netflix's most viewed series and a second season was inevitable. And fans don't have long to wait, with the streaming giant releasing all thirteen episodes of season two at once in traditional style on 9th December. The whole feel around Fuller House is that is modern without losing touch with its retro heart, making Netflix an appropriate platform to see the continuing family conflict, hi-jinks and great dollops of hugs (seriously, if I had a pound/dollar for every heartstring pulling moment that ended in a familial show of affection…)
Over the course of a few years Netflix has shifted its focus from exclusively big budget dramas competing with the Peak TV offerings of the major cable networks and cast its net far wider. The production line coming from the Marvel studios – far more than a blockbuster movie studio now – is only growing. Documentaries have received critical acclaim.
Comedies have come from out in the cold to getting toasty by the fire, diverse as they are funny (Master of None bears little with the equally compelling Grace and Frankie, for example). But neither of these were family comedies in the broadest sense, they had their niche but were relatable to people with certain tastes in comedy.
Recognizing its mass appeal, Netflix knew it had a winner when it greenlit Fuller House, executive produced by Full House creator Jeff Franklin. Sprinkling a little stardust, a few fresh new faces and bringing back as many cast members (schedules allowing) as possible was the key to turning the ingredients into a star baker worthy dessert.
Spoilers can't really come into play when reviewing a Netflix show, with all the episodes existing in the same stratosphere concurrently. The basic premise of Full House was Danny Tanner bringing up his three daughters without his late wife and getting support from his brother Jesse Katsopolis and best friend Joey Gladstone, who both lived in their house on a semi-permanent basis.
Fuller House continued this legacy in the first season. DJ, the eldest Tanner daughter, was widowed and had two sons, and she had her family to lean on to varying degrees. There was also a developing love triangle between DJ, her high school flame Steve and practitioner at her veterinary practice Matt.
Teasers ahead of the second season have pointed towards more tension regarding DJ's relationship status, but the show is so rich with comedic moments that there will be plenty of other side stories that will take some of the audience's attention. Fuller House naturally felt like a continuation of Full House in its first season rather than being its own thing.
This is no slight on the show but, in a similar way to how Girl Meets World nods to its roots (Boy Meets World, the TGIF sitcom) rather than always laying them bare, Fuller House will hope that a years maturity will see it grow into its own identity in season two.
The second season of Fuller House will air on Netflix from 9th December. All episodes will be available on that day. Season 1 is on Netflix now.