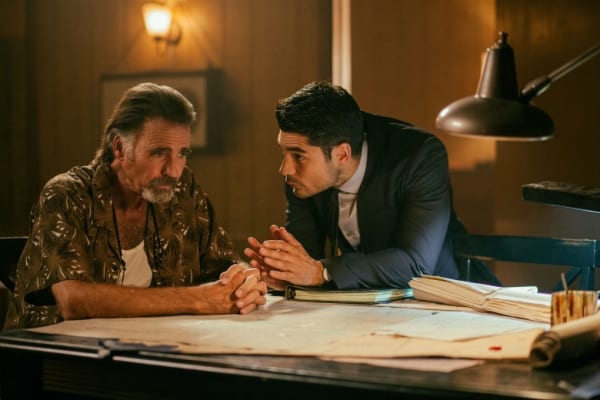 For the first three episodes of the new season of From Dusk Till Dawn: The Series, we've gotten a lot of moments that have felt like wonderful fan-service on top of a strong run of episodes. Let's check out the latest episode, "The Best Little Horror House in Texas," and see how this trend continues.
The episode opens with a super fun scene that flashes back to the past when the Titty Twister was known as the Twister Saloon. This flashback reminds us of just how long Santanico has been controlled by the Masters and how Carlos has so often been in conflict with them. I can't express just how much I'm enjoying the insight into the show's mythology and hierarchy we're getting this season, and scenes such as this one go to show how much territory there still is to potentially cover. When we move back into the present day, we're treated with a really nice (if short) fight between Richie and Santanico that lets the viewer understand that things aren't quite as peachy between the two as we've been led to believe.
After the events of last week's episode, we get to see the evolving "relationship" (or whatever you would call it) between Seth and Sonja. Sonja has already proven to be a dynamic presence on the show this season, and it's nice getting to see the rapport between the two characters develop. That said, I'd be lying if I said that I didn't miss the interaction between Seth and Katie that we were treated with in the first two episodes this year.
The development of Sonja is just one of many examples of how the cast of From Dusk Till Dawn has expanded this season. While the small cast in the first season allowed us to establish our core characters and build relationships with them, the growth of the cast this year not only makes the world of the show feel bigger but also fills out that larger world.
I mentioned Katie earlier, so let's look back at some of the previous cast and what they're up to. Carlos has gotten his best material ever with his interactions with Lord Malvado this season, and it's managed to make me care about a character that I really had no connection with before. Back to the aforementioned Katie, we see her reunited with her brother Scott in this episode for the first time since she escaped the Titty Twister in last year's finale. It's starting to lead to some nice payoff for Katie's arc that's been created, but I do wish that Katie would get some material to work with that's as strong as what she was getting in the beginning of the season. Madison Davenport is an incredibly capable actress, and Katie Fuller is one of my favorite characters on TV actually, but it seems like the character works best when she has an equally strong character to play off of. As interesting as Scott's situation is (and I definitely am super intrigued to see how it plays out), Katie's relationship with her brother has never been one of my favorite things about this series. In fact, I find myself really not caring that much about it, unfortunately, now that their father, Jacob, is no longer in the picture.
As with last week, Culebra mythology and powerset exposition played a big role in this episode, and I am just absolutely loving it. It's so nice that the writers aren't as constrained by story adaptation as they were in the first season, and the expansion of the From Dusk Till Dawn mythology has been one of the coolest things about these first four episodes.
It was a very brief mention, but I loved the small reference to Seth's ex-wife Vanessa in this episode. I know that Adrianne Palicki has been busy with Marvel's Agents of S.H.I.E.L.D. and its potential spinoff as of late, but I do really hope that she pops up again at some point during From Dusk Till Dawn's run, even if it's in the smallest possible way.
I know that it was unintentional, but Katie's conversation with the deceased Rafa was shown in such a way that reminded me a lot of Will Graham's mind palace from the third season of Hannibal, and that was such an unexpected delight.
"The Best Little Horror House in Texas" was a very solid episode in a very solid season, and I really love the direction that From Dusk Till Dawn: The Series is taking. I know that it isn't the most popular or well-known show in the world, but I can really see this one developing a cult following that will remain with it to the weirdest places in the world and love it.
What did you think about "The Best Little Horror House in Texas?" Are you enjoying the new season of From Dusk Till Dawn so far? Let us know in the comments down below!
[Photo via El Rey Network]