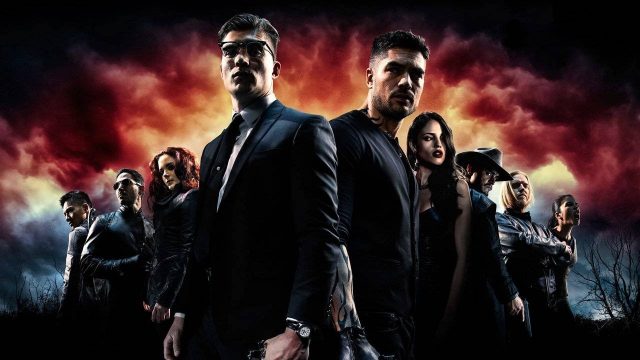 This season of From Dusk till Dawn: The Series has been one of the goriest and most action-packed yet, and that trend seems to be continuing for a while to come. Even the slower episodes are still among the most fun episodes on television, and it's just been a blast to watch each week. Let's take a look at what happened in this week's new episode, "Shady Glen."
The episode opens with Kate/Amaru's henchman releasing more evil upon the world as Aidan and Burt explore the ranch from the previous episode for signs of something that can help. The two are at each others' throats, but they still have to figure out what's so important about the ranch. Unfortunately, Burt has an accident that takes him out of the picture.
Meanwhile, Richie is freaking out about the emergence of Earl McGraw's daughter (understandably), and it turns out that Freddie has known about her all along. It seems, though, in his efforts to live his new life, that he's been actively working to keep her off the Geckos' trail. Everything comes to a head for everyone, however, as the plague of locusts overwhelms the neighborhood of Shady Glen. As the sewers are overtaken, it appears that there's more to this new threat than anticipated.
One fun thing about "Shady Glen" was the pairing of Aidan (Sex Machine) and Scott. I truly can't remember if we've gotten a good episode that partnered these two up since the first season at the Titty Twister, but it's always fun when the series pairs up those that you wouldn't expect. It helps that Jake Busey is an absolute treat in every scene he's ever been involved with , but the writing for this season has just been absolutely on point so far.
It's been a little overwhelming at times, but I have to admit that I'm really enjoying how much the mythology of From Dusk till Dawn has expanded this season. We saw a bit of it last year (and the slightest amount in the first season), but this show has really become its own thing that's almost completely distinct from the film/franchise on which it's based (I say that while acknowledging that the only of the films I've seen is the first one, so I have absolutely no idea what happened in the two sequels). I really wonder sometimes what this show would look like (and if it would have been received as positively) if it had debuted with a (reworked) version of the second season, but I do like all of the backstory that adaptation of the film gave the characters. Still, the actors on the series have definitely made each of the characters their own.
"Shady Glen" is a pretty fun episode that builds the mythology a lot while delivering a great new monster for the team to fight. It also gave us some solid character moments (I think Nicki Whelan as McGraw's daughter is going to be fantastic), and it's opened up the season a lot for the back half.
What did you think about the newest episode of From Dusk till Dawn? Let us know your thoughts in the comments down below!
[Photo Credit: El Rey Network]
From Dusk till Dawn Season 3 Episode 5 Review: "Shady Glen"
Summary
"Shady Glen" is another fun episode of the series that delivered a great monster and solid character moments.