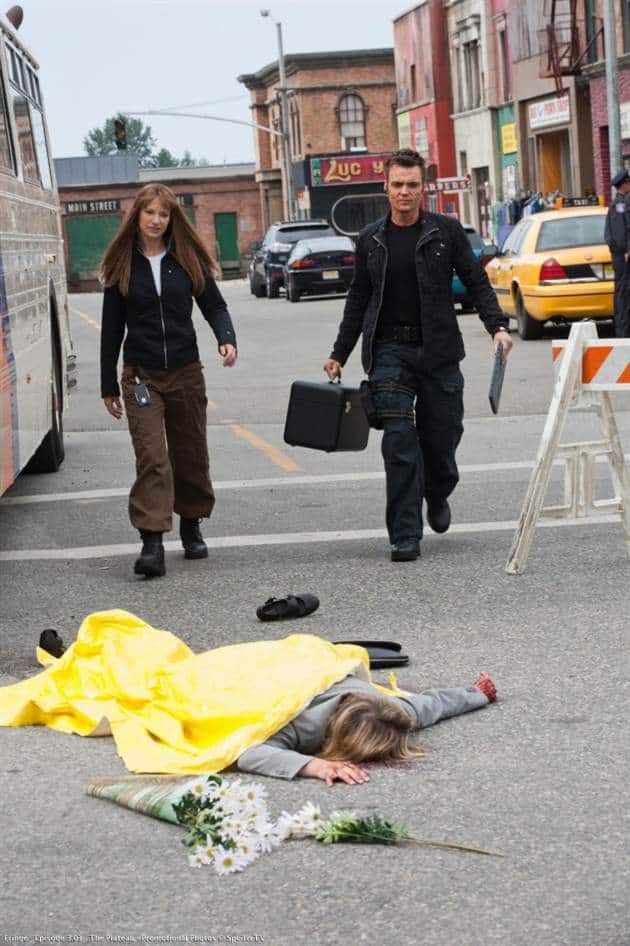 After two mythology-heavy episodes to kick off Fringe's third season, "The Plateau" evened us out with a much more standalone affair: it was very case-centric, but unique in that it was set in the alternate universe. That kept it from being too boring, as we had little things to pore over (ballpoint pens are a rarity! Ooh!), as well as the solid case that seemed a throwback to season one episodes like "The Equation" and "Power Hungry."
First of all, I have to say that I loved the villain this week. Milo was delightfully strange, and his "power" was such a simplistic premise that it made for some very compelling television. Astrid's infinite loop from the episode is a paradox that I'm sure we've all pondered at least once, and Fringe gleefully cheated the paradox by using Olivia as a variable in the mastermind antagonist's plans. Was it predictable? Yes. I called what would happen a minute before it actually did, and I'm sure many of you did. But that wasn't disappointing; it gratifyingly made me feel clever.
I'm happy to see Brandon taking on a larger role this season, despite it being the alternate Brandon. He was really a cool character throughout his run last year, and I hope we can see the Brandon from Over Here before long to give us the goofy, geeky scientist that we all know to counterpoint the serious Brandon of Over There.
I was also delightfully surprised to see Joshua Jackson appearing in this episode; he's currently three for three for the season, proving that he was tricking us when he said he'd only appear in the evens; I'd be happy to see him appear in every episode, quite honestly. Hopefully his presence in Olivia's psyche will help her escape the dreaded titular plateau; I think the storyline might become unbearably tense if she permanently becomes Altlivia. By the way, am I the only one who noticed that her hair was starting to have streaks of blonde in it this episode? If that was just a hair/makeup error, I'll be disappointed; the writers could easily have written it in as a plot point.
You know what else is great to see? Charlie's inclusion. The new Fringe team that's been introduced has been most welcome, especially with the reappearance of the lovable Charlie. I was sad to see him get "fired" in the season two premiere, and having him back is welcome. The new Fringe team as a whole seems like a good group of characters; even Lee is starting to grow on me a bit.
Overall, "The Plateau" was a solid episode. In my opinion, it was an upgrade from "The Box," but still wasn't anywhere near the magic that "Olivia" was. However, if the title is any indication, next week's "Do Shapeshifters Dream of Electric Sheep" will be totally awesome.
For this episode, I say: B+