Meanwhile, Fauxlivia is digging through Olivia's life. She is watching a video of Olivia on a case and realizes she has photographic memory. That can become a problem because Fauxlivia lacks that ability. A knock on the door interrupts her thoughts. It's the guy who had stolen the box and she lets him in at gunpoint. After he puts the box down, she realizes he is deaf and that's how he survived. She calls Newton to come and get the box and he says she needs to get rid of him, which she does, putting a suppressor on her gun and shooting him.
She is dragging the poor guy's body through the living room, when someone else knocks on the door. It's Peter and he asks if it's a bad time. Fauxlivia panics for a second, wondering what to do with the body, then tells Peter to wait just a moment because she was just getting out of the shower. She runs to the bathroom, hides the body, washes her hair quickly and changes out of her work clothes and into a more comfortable outfit.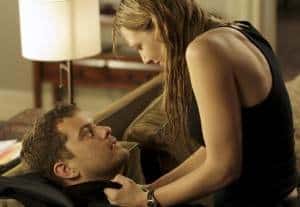 She lets Peter in and he tells her that Walter tried to apologize. He knows it wouldn't take much to make his father feel better, but he still can't bring himself to do it. Fauxlivia says it's understandable; after all, they have all been through a lot. She says that he didn't really go there to talk about Walter and Peter admits he's afraid of what those blueprints of the doomsday machine can actually mean. While he's talking, Fauxlivia notices that blood is coming through the bathroom's door, quickly tells Peter that he needs a distraction, and promptly kisses him.
Newton — now in possession of the box — goes to a subway station and engages in conversation with a guy and leaves the box with him, claiming he needs to go to a restaurant. On the other side of town, Peter and Olivia's make out session is interrupted when both Broyles and Astrid call them and let them know that the same thing that happened to the people in Milton has happened in a subway station. They go there and discuss a plan to retrieve the device. Peter says he wants to go because if it is part of the doomsday machine, maybe he can do something about it. Walter realizes that the only way for him to go down there in the tunnels looking for it is if he is deaf so the ultrasonic sound won't affect him. They decide to let Olivia shoot her gun right next to his ear, rendering him completely deaf and Walter alerts him it'll only last three minutes, tops.
Peter goes into the tunnel and quickly finds the little man with the box. While he's getting a closer look, the guy's head explodes! I honest to God screamed and jumped about a foot in the air when that happened. It was rather gruesome. Peter tells the team he has found the box, but it's broken and won't close so he's going to try to disarm it. When he finally manages to do that, he realizes the subway is coming in his direction. Fauxlivia realizes that before him and jumps into the tunnels after him and saves him just in time. That was one awesome scene, man! The tension and suspense were incredible.
Back at the station, Peter talks to Broyles and says that the box is a piece of the machine; he recognizes it from the blueprint. Broyles finds it strange that something from another universe is here and Peter tells him that there is another version of everyone in another universe. Really, Broyles, it doesn't get any weirder than that. Then Peter asks him to take the box to the lab so he can try and figure it all out, which Broyles authorizes.
The next day, Walter finally takes courage to go and get whatever it was that William left for him in that safety deposit box. Then he goes to Astrid's to tell her and guess what: William Bell has left him Massive Dynamic. Walter is the sole shareholder.
Oh. My. God.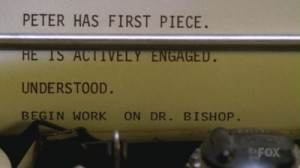 Meanwhile, Fauxlivia sends a message to the other side, saying that Peter has the box and that he's actively engaged. She receives another back saying that now she needs to start working on Walter.
It was just one hell of a long con and they wanted Peter to have the box all along.
Well played, Fauxlivia. Well played.