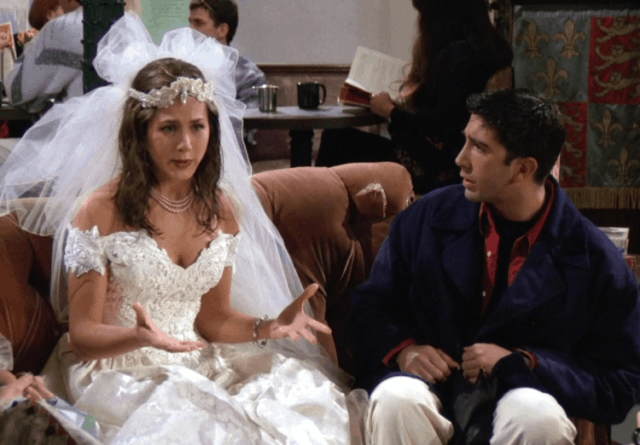 September 22nd really should be turned into a National holiday. Why may you ask? Well, Friends debuted on this very day 23 years ago in 1994. The series is popular among new and old fans alike. In honor of the anniversary of the first time we saw Rachel, Ross, Joey, Phoebe, Monica, and Chandler take a sip of coffee, here is a list of 5 things we have wondered about while watching reruns of our favorite 90's sitcom. Have you thought about these as well? Maybe you will now!
1. The Handcuffs
In the Friends season 10 episode "The One with Rachel's Going Away Party," Chandler finds a pair of handcuffs in the spare bedroom. He assumes they are Monica's, but she has never seen them before. Chandler also asks Rachel and Phoebe about them. Turns out they belonged to Monica's grandmother. Chandler also found some photographs where she is using them. We are to believe that no one ever found these photos during the entire time Monica lived in that department? It might make sense if Monica wasn't a neat freak and hated to clean. However, we know better!
2. The Adult Video
During the ninth season of Friends, Joey and Chandler take a tour of Richard's apartment that he is selling in the episode "The One with Ross' Inappropriate song." Joey is looking to invest some cash and Monica's suggest real estate as a good option. While touring the place, the guys find a video with Monica's name on it. They steal it and watch it, only to find out Richard taped over it with another woman. Our question is: Why would Richard leave videos like that out for possible home buyers to see? The least he could have done was flipped the video around so no name could be viewed.
3. Meeting Chandler
In the pilot episode of Friends, Rachel finds Monica at Central Perk after she leaves Barry on their wedding day. Monica introduces her to the group – including Chandler. As the series progresses we know that Chandler has met Rachel on several occasions. Granted she may not remember him, but Monica, Rachel, Ross, and Chandler all play it off like this is their first encounter.
4. Judy Jetson
Phoebe was never a fan of her twin sister Ursula. The first time we meet her is in the Friends season one episode, "The One with Two Parts: Part One." Phoebe tells a story about her Judy Jetson thermos and how Ursula threw it under a bus. When Phoebe goes to visit Ursula, she has a gift for her: a Judy Jetson thermos. It is hard to believe in a world before sites like Amazon that Phoebe would have been able to find an item like this to bring to her sister just a matter of days after bringing up the story to her friends.
5. Shark Love
In the Friends episode, "The One with the Sharks," Monica walks in on Chandler pleasuring himself. As soon as Chandler hears the door opening, he quickly changes the channel to a shark documentary. Monica then assumes he likes shark porn and tries to bring it into their marriage. Monica is smart enough to know better and should have assumed that he changed the channel from an actual adult movie. She even admits to walking in on him doing that in the past.
What episodes of Friends make you question the show? Let us know in the comments section below.
Photo by: NBC
Save
Tell us what's wrong with this post? How could we improve it? :)
Let us improve this post!