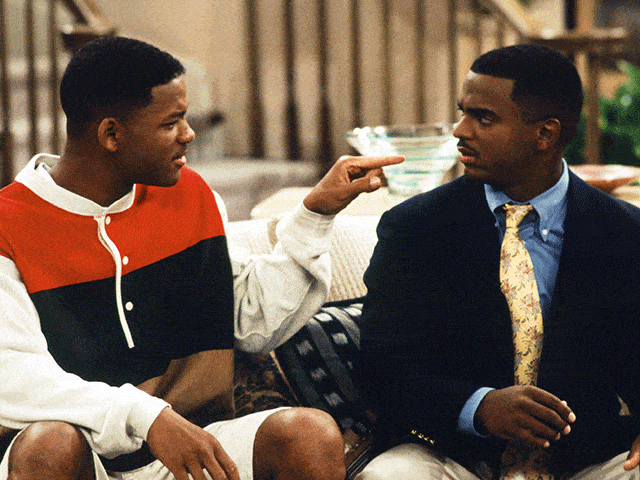 Some cases of overacting are kind of funny, such as with the Fresh Prince of Bel-Air. Of course sometimes they seem to stretch on for an uncomfortably long period of time as the actors drag the moment out, and out, and out as they continue look for the reaction they want. With Will and Carlton it's easy to shake your head and dismiss their overacting as just a part of their personality, a way for them to get a rise of out of people for acting so ridiculous. Sometimes though their costars just didn't know what to think.
Their acting is on point most times but when it comes to bloopers they tend to know when things have screwed up and are just being over the top on purpose. Sometimes it's enough to make you laugh, other times you tend to just there and shake your head trying to figure out what they're doing. Will in the church scene is a good example as you can see that he's trying to be funny but has somehow derailed and taken it over the top to a degree that almost makes you want the director to yell cut so that you can move on to the next scene.
Carlton is just as over the top but he's not quite as loud. His overacting is also far more feminine than Will's since his voice becomes so high-pitched. Both of them however are just about as ridiculous when you watch their acts the whole way through. This show had a decent run and was a popular sitcom for a while but it had its fair share of bloopers. There were usually shows that would be run just for fun to show the audience that the cast did in fact get to have fun on set and were a tightly-knit bunch.
That wasn't always the case obviously as the woman that used to play Aunt Vivian got replaced and nearly forgotten at one point. There was some definite bitterness over that, but for the most part the rest of the cast was a well-oiled machine that got along just fine. But there were a lot mistakes and it was filmed in front of a live audience so chances are that Will and Carlton were playing up the reaction of the crowd a LOT.
That's okay though. It got people to laugh and it kept the show on the air for a long time. In fact even when it was about to go off people were still clamoring for more, that the show hadn't done all it could do yet and there was a chance to develop even further. Let's put it this way though, even the youngest would be out of college at this point, and I'm not talking about Tatyana Ali. Ross Bagley, the guy that played Nicky, is edging towards thirty years old now and would definitely be out of the house. Plus James Avery, Uncle Phil, sadly passed away four years ago so a reunion show wouldn't even be fully possible.
As of now, reruns and bloopers are really the best way to still enjoy this show.
Save