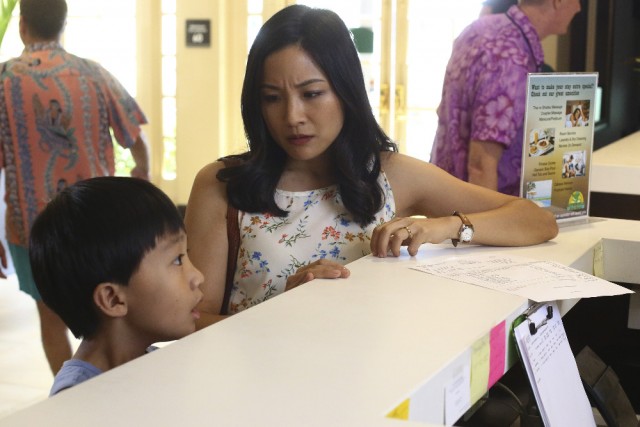 Fresh Off the Boat feels like a very different show in the fall of 2015 than it did in the spring, when its 13-episode first season aired on ABC. And it's not just because Eddie Huang isn't providing voice-overs, either. As Fresh Off the Boat slowly moved away from its premise and pilot into something a little softer — and a lot funnier — it became a completely different kind of story, albeit with the same familial underpinnings. Rather than simply a story about an immigrant family trying to navigate America in the 1990s, it became about the Huang family and how they adjusted to finding themselves in a position their family had not for generations: one of unexpected prosperity, which provided another ingenious entryway into Americanism as the 20th century came to an end.
"Family Business Trip," the second season premiere, is very much a product of this narrative shift. When Jessica finds out Louis is taking a secret vacation (and calling it a "business trip"), she decides to bring the family along and get their money's worth out of the weekend. As a character, Jessica herself has gone through the most change since the show started: she's begun a career in real estate and slowly adjusted herself to life in the suburbs, where book clubs and wine-soaked evening with giggly white women are a normal occurrence.
Her transformation throughout the first season becomes complete on the family "vacation" that opens Season 2: by finally learning how to relax by episode's end, Jessica has begun to embrace — and surprisingly enough, enjoy — the very life she scoffed at when first moving into their new home in Florida. The success of her business, paired with that of Louis's, has placed the Huang family into a comfortable financial position, one their family almost doesn't understand how to experience, or enjoy (meanwhile, Nicole fails eighth grade because she's partying too much with Honey to go to summer school). The life of luxury – even the limited luxury of 1990s upper-middle class America – is an unfamiliar one to just about everyone (except Grandma, who is the ultimate social chameleon) – and while Eddie certainly knows how to embrace it, none of the Huang family know how to actually enjoy it (even Eddie is going on that frightening ride for a distinct reason, and it's not just to "have fun").
While this may not be quite the same path as Fresh Off the Boat originally started on (in fact, it's the exact opposite), "Family Business Trip" proves why this dynamic works better for the show. First off, Fresh Off the Boat is an uplifting show, not one commenting on the depressing ironies of life; as much as the real Eddie Huang might have wanted it to be, this would've most likely marked the show Dead on Arrival. With some tweaking, however, Fresh hasn't had to compromise its vision of exploring the clash between traditional Chinese and modern American values as its has evolved; in fact, that comparison becomes much sharper when the series explores how all of this Americanism affects the family and how it operates on the most basic levels.
"Family Business Trip" is not an episode with a knockout scene or powerful message. In fact, outside of Randall Park's amazing high-pitched scream near the end, this is a fairly straightforward episode of the show. As a refresher on what the Fresh Off the Boat's values are, however, "Family Business Trip" is a terrific episode that succinctly captures the weird place the Huangs find themselves in when summer break becomes an actual "break," and how the changing socio-economic position of the family has changed their priorities as human beings. That's a genuinely interesting topic, and one that's often only explored in reverse on television (when the family is losing money and buckling their bootstraps, or whatever old people say for "surviving while broke"). It may not provide the most fruitful avenue for storytelling week in and week out, but as a table setter for the season to follow, "Family Business Trip" brings back Fresh Off the Boat back in '95 Pump style.
Other thoughts/observations:
I love how the season opens with Evan recapping the big moments of Season 1 which is then revealed to be a super-long entry in a kid's yearbook. Cut to Emery and a long line of girls waiting to have their book signed, and the scene only gets funnier.
"John Stockton has been seeing wearing Pumps." For any '90s NBA fan, this is pretty golden.
Evan enjoys the constructive criticism he gets from "The Tooth Fairy," who leaves notes telling him to clean his room rather than money.
"I bought you the kind of shirts you like, with black men on it…. They were the gangsters of the bargain bin."
If Jessica had a chance to be free, she'd move to South Texas to paint portraits, with a St. Bernard and a muscle car she rebuilt by hand.
The "This Is How We Do It" montage was cool, but it's the Masta Ace drop that has me gleeful for the season ahead.
"Women, I been soft!"
Great guest cast in the episode, though none really get to do much: Rob Riggle, Riki Lindhome, and Sarah Baker all appear as employees of Gator World.
Welcome back to Fresh Off the Boat reviews!
[Photo credit: Michael Ansell/ABC]