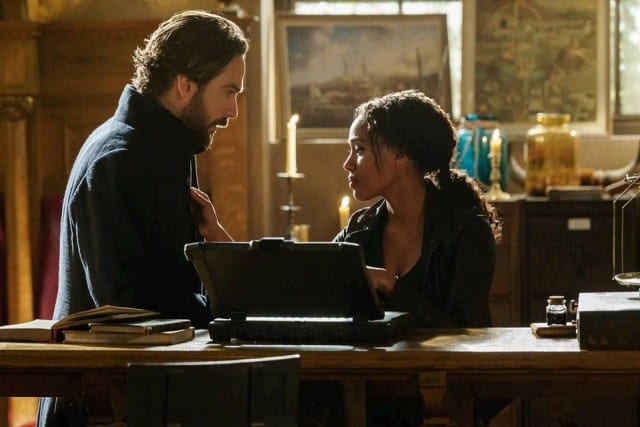 Sleepy Hollow fans were incredibly surprised when they learned of FOX's announcement to renew the low-rated supernatural drama for a fourth season, especially following Nicole Beharie's exit from the series. Many believe that this upcoming season will be the final one for Ichabod Crane and the rest of his demon-fighting team. However, when discussing the show on a conference call with reporters on Monday about the network's fall schedule, FOX Entertainment CEO Dana Walden suggested that there could be more life in Sleepy Hollow than just four seasons.
"We're not announcing that it's the final season," she said on the call. "We're not sure if it's the final season."
Meanwhile, the FOX exec also addressed Beharie's departure from Sleepy Hollow and the reason why the network wanted to keep the show going, despite the loss of one of its main stars.
"There were a variety of factors that led to the end of the season," Walden said. "It was not a decision that we wanted to make initially. We ended up being put in a situation where that was a decision that needed to be made."
However, the reason why FOX believes that the show can continue is because of Tom Mison's performance as Ichabod Crane, as Walden called Mison "a big star" and said that Crane "has been so central to the series and the storytelling and he feels like an original, big FOX character."
Regarding the negative response that many Sleepy Hollow fans have had to an Abbie-less fourth season, Walden acknowledged that there has been some backlash to the Season 4 renewal but also a great deal of support. She believes that enough of Sleepy Hollow's fanbase wants to see this story continue.
"While there was backlash [to Sleepy Hollow's Season 4 renewal], there was also a tremendous amount of enthusiasm from fans about the show coming back and about Tom having the ability to be the center of the series and discovering new dynamics and new relationships," she said. "It's a very original premise and we felt like it had greater life in it and that there was no reason to end it."
Sleepy Hollow returns for Season 4 at midseason on FOX. Do you think the show will suffer without Nicole Beharie's Abbie?
[Photo via FOX]