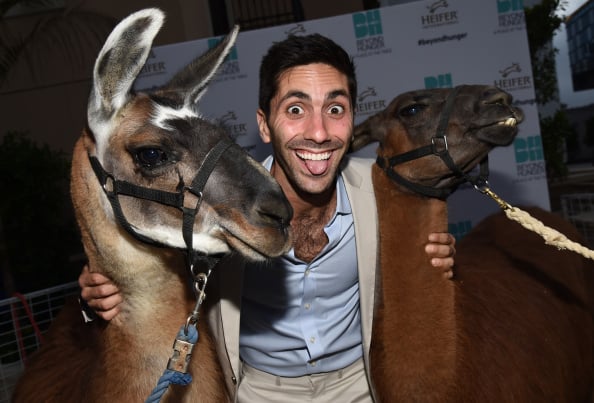 Catfish, the current MTV reality online dating show, has proven that dating via the internet is not always a good experience. There are many people online pretending to be someone they are not in order to have a "real" relationship. These "catfishers" do not necesarilly want to hurt anyone, but they feel like no one will like them for the person they are in real life. These deep emotional problems they have experienced have caused them to escape into an alternate persona in the online world. Catfish finished its third season earlier this year, and although many of the episodes end in heartbreak, there are a few stories where the two parties involved share a happy ending. Here are the success stories of MTV's Catfish.
Kya and Alyx from Season 1
The episode from Catfish's first season was the first success story between any of the couples. At first, it did not appear it would turn out that way. Kya was the one who had contacted Nev and Max. She had been talking online to a guy named Alyx. The problem was she had been using a fake name and fake photos of herself. Kya eventually came clean to Alyx and he quickly forgave her. The reason he was able to forgive? Alyx had been doing the same thing to Kya this whole time. However, Alyx's secret was a lot bigger. She was actually a transgender male named Dani. Kya did not find this out until the team at Catfish began doing their investigating. Nev and Max wanted to share the information with Kya before the encounter in order to make the news less startling for her. After speaking with the duo, Kya admitted that it was not an issue and that she had been attracted to women in the past. When the two finally did meet, they were inseparable. They spent the two days of filming at each other's sides and were both saddened when Kya had to return home to Missouri. Once the show concluded, Kya and Dani were still a couple. However, after one year of dating the two had called it quits.
Ashley and Mike from Season 2
In this scenario, Ashley and Mike were both lying about themselves to the other person. Ashley and Mike had been talking to one another online for seven years before Ashley contacted Nev and Max and the rest of the Catfish crew to set up a meeting. Ashley was embarrassed about her weight. She had been sending photos of herself to Mike, but they were dramatically altered to make her appear thinner. The pictures that Mike had been sending Ashley were of an entirely different person. He was also self-conscious about his weight and did not want to show Ashley what he truly looked like in fear of losing their friendship. Ashley decides it is finally time to meet Mike in person, especially because he was the one who helped her get over her father's death. At first, Ashley was upset with Mike for sharing photos of a different person. She was reminded that her altered photos were no different than what Mike was doing and she forgave him. Once the episode had ended, Ashley and Mike continued to be on good terms with one another. Sadly, their time together was cut short. Mike passed away from a pulmonary embolism as a result of deep vein thrombosis on October 12, 2013. Ashley informed fans that the two were still in love at the time of his death and that they were planning to spend New Year's Eve together.
Lauren and Derek from Season 2
Lauren and Derek "met" for the first time on MySpace, which shows you just how long the two had been communicating online before Nev and Max came to the rescue. After 8 years of developing feelings for one another on the internet, Lauren felt it best that they finally meet in person. Lauren and Derek both had relationships while they talked over the years. One of those relationships resulted in a child for Lauren. Derek was very supportive of Lauren and Mason, who was three at the time the episode of Catfish aired on MTV. When speaking with Nev and Max, Lauren admitted that she and Derek had never video chatted during the entire time that had been talking online. For any Catfish fan, this was a huge red flag that Derek was not who he said he was online. When the two finally meet, Derek proves he had never lied to Lauren and the two hit it off beautifully. Derek was even able to bond with young Mason. During a reunion episode of Catfish, Lauren and Derek returned to tell fans that they were still dating. Derek decided to put a ring on it right then and there. Lauren accepted the proposal and it appeared these two were destined to live happily ever after. Sadly, the engagement was short lived and the two have called have ended things on good terms.
Solana and Elijah from Season 3
The sotry of Solana and Elijah is a success story in a different way than the three scenarios mentioned above. Solana first connected with Elijah on MySpace. Then one day he just disappeared. A few years later, he reached out to her on Facebook and the two were able to reconnect. Solana wanted to finally meet Elijah because she had fallen in love with a guy Danny and wanted some closure in her online relationship. Solana has never spoken to Elijah on the phone in the six years they had been communicating, so she is worried he may be an entirely different person. Solana is overjoyed when she finally meets Elijah and he is the exact person he had described himself as online. He does not have a computer or a cell phone that he can call out on, which is why they were unable to speak on the phone. The two instantly connect and end up getting matching tattoos. In the end, Solana ends up marrying Danny, but still considers Elijah to be her best friend.
What episode of MTV's Catfish was your favorite one? Let us know in the comments section below.
Photo by Michael Buckner/Getty Images for Heifer International