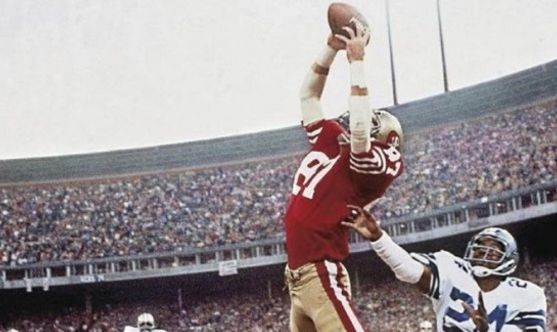 Before the David Tyree catch in Super Bowl XLII and before Julian Edelman's memorable grab in Super Bowl LI got their reputations as conceivably the two best catches in all of Super Bowl history, there was one other catch that would always and will always be mentioned in the pantheon of famous NFL post season plays. "The Catch" as it is called, was made when Joe Montana threw a prayer in the 1981 NFC championship game to none other than Dwight Clark.
With 58 seconds left in the game, San Francisco wide receiver Dwight Clark made a leaping grab in the back of the end zone to complete a 6-yard touchdown pass from quarterback Joe Montana, enabling the 49ers to defeat the Cowboys, 28—27. The Catch is widely regarded as one of the most memorable events in National Football League history. The game represented the end of the Cowboys' domination in the NFC since the conference's inception in 1970, and the beginning of the 49ers' rise as an NFL dynasty in the 1980s.
The Catch is closing in on 40 years but you'll always see clips of it come playoff time. Unfortunately the receiver of that catch, Dwight Clark,, said Sunday that he has been diagnosed with amyotrophic lateral sclerosis or ALS. Clark, 60, said he underwent months of testing after first experiencing weakness in his left hand in September 2015.
"I have ALS, also known as Lou Gehrig's disease," Clark wrote. "Those words are still very hard for me to say." According to Mercury News
He said he is "still trying to wrap my head around the challenge I will face" but went public Sunday night with the backing of his old teammates. His letter was posted in conjunction with former 49ers Eddie DeBartolo, and included words of support from fellow stars such as Joe Montana, Jerry Rice and Ronnie Lott.
Clark wrote bluntly of his ordeal. After visits to six neurologists and three ALS specialists, Clark was told he had the terminal neuromuscular condition which affects control of muscles needed to move, speak, eat and breathe.
"The one piece of good news is that the disease seems to be progressing more slowly than in some patients," Clark wrote. "While I'm still trying to wrap my head around the challenge I will face with this disease over the coming years, the only thing I know is that I'm going to fight like hell and live every day to the fullest."