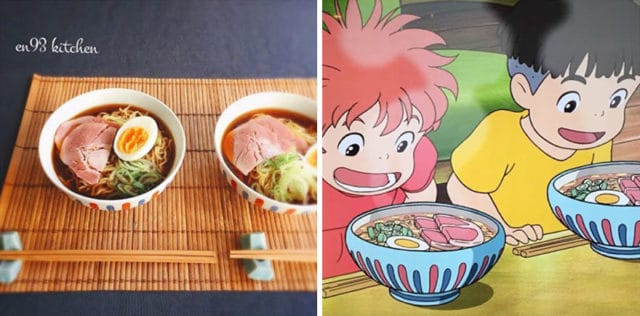 Admittedly I don't know much about anime but I do know something at least about food, besides how to eat and what I like. The culinary creations derived from several Hayao Miyazaki films are incredibly easy to make and look very tasty. In fact a few of them might be worth trying out a time or two.
Cake from Kiki's Delivery Service
There is probably a very well-defined recipe for this but for all intents and purposes it looks like a chocolate cake with a very smart-looking design atop it. In fact the design might actually be the hardest part to replicate, while the cake could be pretty much anything you'd want on the inside.
Lunchbox from My Neighbor Totoro
These seem to be gaining in popularity in the states since they'r fairly easy to make and can incorporate a lot of different items if you really think about it. Obviously if you're going for the same thing as the movie then you'll need to find out just what's in it, but the idea is pretty sound for almost anything.
Tea Party from Spirited Away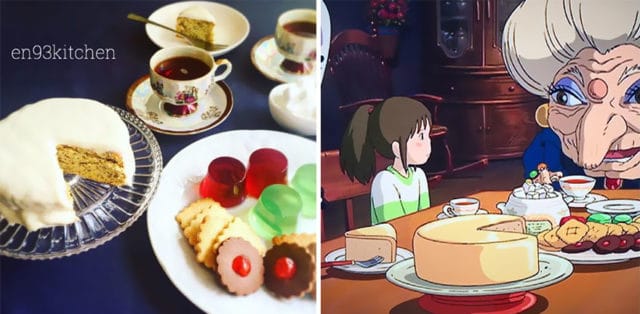 A tea party is of course a wonderful little soiree that usually offers tea, of course, and several well thought out little treats such as cakes, cookies, and in this case what looks like some form of gelatin treat. This looks like it would be a great idea for a little get together.
Lunch Box from Up On Poppy Hill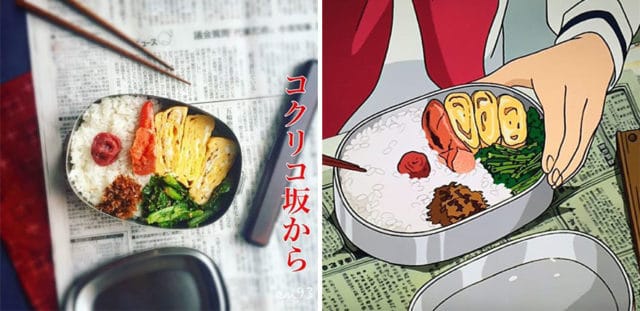 This one seems a bit more complex than the other one but it's the same basic principle. The portion size is key after all since lunch shouldn't be a huge meal, just something to get you through to the next one. It's always possible you might need a light snack if you're working hard, but this should give you nutrients you need to keep going.
Sandwich from Ponyo
Easy to make, easy to transport, it's one of the simplest ways that you can make a decent meal. Add in a small side to round out the meal and this becomes one of the best things to eat on the go.
Soup from Wolf Children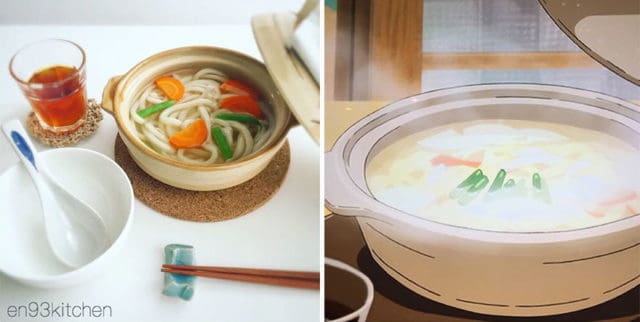 Soups are one of the ultimate comfort foods. They're typically warm, have some sort of savory element to them, and can be quite filling. A good soup is like a warm hug on the inside, sappy as that sounds. In many ways it's one of the best ideas on a cold day or just when you're in the mood.
Meat Dumpling Soup from Castle In The Sky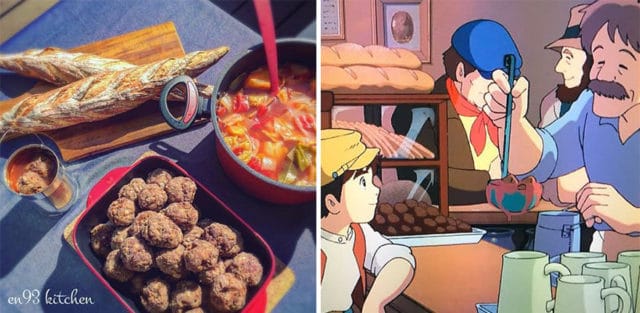 It almost looks like meatballs in a hearty soup. That could be extremely tasty, especially since it appears that you don't dunk the dumplings into the soup until it's time to serve it. That would keep them from becoming to soggy and therefore allow the dumplings to provide a nice consistency and flavor that adds to the soup.
Pancakes from Your Name
Pancakes are another type of comfort food and can be prepared pretty much any way you want them. A lot of people prefer fruit as well as syrup. This gives a nice citrus taste to the pancakes while the syrup provides a little more sweetness that rounds out the slight tartness brought on by the fruit.
Sandwiches from Tales from Earthsea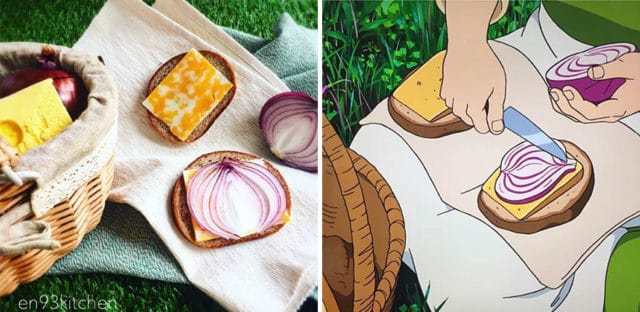 These almost look like baguettes with onion and cheese. A little plain maybe, but still a lot healthier than some options, and the cheese and onion pair well together with the crunch or at least firmer aspect of the bread offering a pleasing note to the combination.
Breakfast from Howl's Moving Castle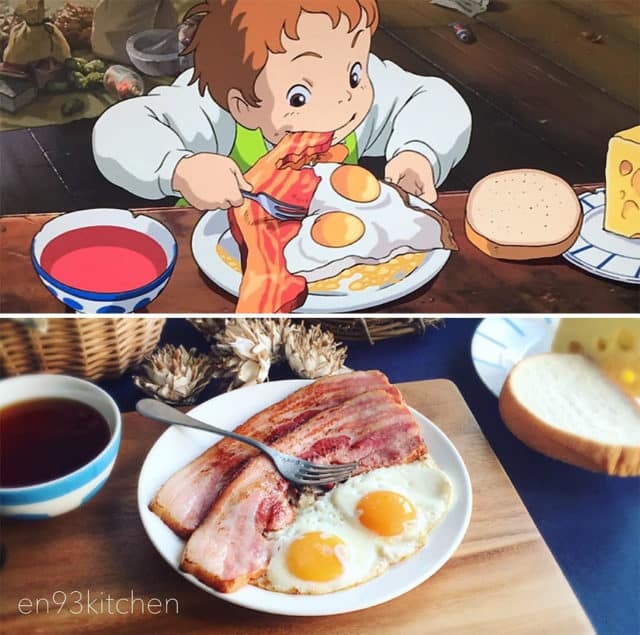 Now that's a breakfast. I'm not sure whether to call that really thick bacon or slices of ham that are crowding around the eggs. In any case that's a lot of protein and a very enticing meal.
See? It's easy to create food from the movies.