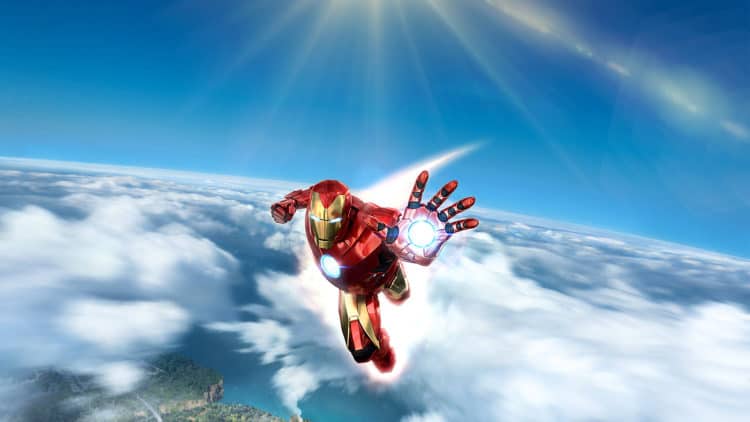 Unreleased superhero games of 2019 and 2020 are a bit of a mystery. We always get psyched for a good superhero game, but it does seem like they aren't making as many as before at any of our favorite studios. The games that are in development are being kept mostly under fairly tight wraps. That said, some exciting things are coming down the tubes, and we're here to share everything we know about the top five upcoming superhero games with you.
1. Marvel Ultimate Alliance 3: The Black Order
It's hard to imagine, but it has been a decade since we last saw a Marvel Alliance game. With the overwhelming fan responses to the first two, you might have expected the third installment to come sooner. We can't wait to play Marvel Ultimate Alliance 3: The Black Order. We hear rumors of a massive cast with as many as a hundred heroes to choose from. The fact that both local and online coop modes will be available is a significant bonus. There are never enough games with local coop mode to satisfy us. As though local coop wasn't enough, it's an RPG (obviously) which is the holy grail of local cooperative play for our money. We can't wait to see those graphics and get immersed in the Marvel Universe with friends. The hardest thing about this game release, other than waiting for it, is deciding who to play. We like the idea of going crazy with Spider Gwen. As soon as this one drops, we'll be busy saving the universe.
2. A Sonic The Hedgehog Game
Perhaps this seems a bit like a foregone conclusion, but with the upcoming Sonic the Hedgehog movie on its way they've announced a new game will also be coming out. Don't worry; we haven't confused this with the about-to-drop-now Team Sonic Racing multiplatform game. The other, more mysterious new Sonic game was announced at SXSW. We know that Sega's Sonic Team chief Takashi Iizuka made the announcement, so it's not just a rumor. Fans are speculating wildly. Will this be Amy-Rose based? It's almost certainly not going to be another racing game since there's one dropping. Beyond that, literally, everything else is speculation. Sadly, there's no secret spoiler coming. You know everything we know now. The Sonic saga will continue, and further news can be expected later this year. Beyond that, we don't even know whether it will be 2d or 3d. Fans were happy about the return to 2d platforming, so perhaps they'll stick with it.
3. Marvels New Mobile Game
Second Dinner is an upstart company built from the bones of Hearthstone. If you aren't familiar with that name, they made mobile card collecting games, and that has led to speculation about the new Marvel mobile game being a TCG based concept. However, Marvel Battle Lines just released last October, and it seems less than likely that they'd want or need a new card game quite so soon. Of course, that's just our opinion on the subject. We all know what those are like. Neither Marvel nor Second Dinner has released any further details on the new game which leaves us all speculating about when and what we'll be seeing from this new company. One thing is certain, they possess a tone of proven talent, and they absolutely have the funding to pull off something epic. NetEase gave them a $30 million minority investment. The combination of factors means we're looking at Second Dinner as a potentially huge up and coming game developer and we're on pins and needles waiting to see what they are going to bring to the table for us.
4. A Mysterious Avengers Game Known as The Avengers Project
This game has been a teaser for what seems like ages. Last year fans expected announcements about what was happening with The Avengers project. All we knew until yesterday is that such a project existed and much to the exasperation of fans and reviewers there just wasn't anything leaking about the game. It got to the point where many feared the game had been dropped in favor of other projects. However, Marvel knows a valuable property when they see it, even if they don't always capitalize as fas as we gamers might wish. The Avengers is something we all love and want, so they jumped the gun, but that doesn't mean there's nothing to show for it.
We think this may be another RPG style game because of leaked details from job postings related to the project. Square Enix is seeking to create a vast and immersive story driven game that is a contender for game of the year. They're looking for people who possess a more profound knowledge of the third person and stealth mechanics, so we've got some idea what they're producing based on the skills they recruit for. We're hoping this means it's worth the wait, and we know that they can deliver because of other great titles they've produced. We'll keep an eye on the project for certain, now that we're sure it's still happening. Maybe not today, but soon, there's another Avengers game in our future, and we can't wait to get our hands on it.
5. Iron Man VR
So you always wanted to be a superhero you say? Well if you're ready to fly then, the Iron Man VR is the game you've been waiting for ever since Playstation put out the "PS9" commercial for the PS2. It won't have telepathic personalized musical experiences or tap directly into your adrenal glands with nanospores, but you can be an Avenger in the most real and immersive way that has ever existed. For now, we're pretty sure you'll have to wait like the rest of us if you want to be other heroes, but the genre is new, and they're just getting the party started.
If the trailer is to be believed, the experience is going to be peerlessly immersive, though all VR is, still falling out of an airplane without a chute is a great way to drop a player right into the action. We always loved the idea of Tony Stark's suit giving us the ability to be super even if we don't possess inherent superhuman abilities. Now a VR headset can provide us that experience without actually needing to risk our skin against supervillains. All we want to know is where to send the check.
Final Thoughts
Full disclosure, we can nerd with the best of them over some superhero video games. We'll leave the tournaments to the pros, but at home, we're ready to save the universe in our spare time or clean out an asylum in Gotham when the mood strikes us. Video games have been getting steadily better for as long as we can remember, and the ability to step into the shoes of our favorite heroes (or villains) is one of those benefits that make the whole experience worth spending our time and money on. The worst part of superhero gaming is always the wait, but we'll try to be patient while we search the web for more news on our soon-to-be favorite new titles.
Tell us what's wrong with this post? How could we improve it? :)
Let us improve this post!