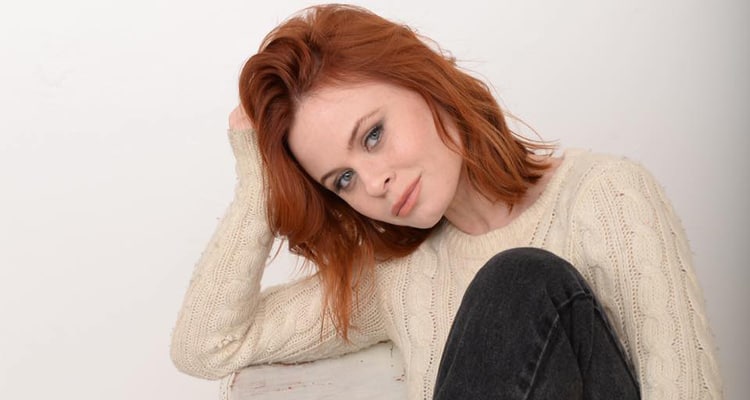 Augie Duke is an award-winning actress who has starred in many films and television shows. Within her over 75 credits, she may be most known for her roles in "Trauma Is A Time Machine (as Helen), "Red Oaks" (as Joan Jett), "Chasing Bullet" (as Steve McQueen's wife Neile Adams), "Bad Kids Go To Hell" (as Veronica), "The Badger Game" (as Alex), and "Spring" (as Jackie). I've also seen her in the popular television shows "The Mentalist" (as Krista) and "Criminal Minds" (as Jill Simmons). Augie Duke stars in the recently released award-winning film "6:45," a psychological thriller film that screened in Regal Theaters and is now available through digital outlets and on DVD/Blu-ray. Find out more about Augie Duke below:
1. Augie is a Los Angeles native with a big family.
Augie Duke was born and raised in Los Angeles, CA. Her parents got a divorce and remarried when she was six years old. She has two full brothers from her biological parents, and when her parents each remarried, she gained a half brother from her dad and stepmom and a step-sister and step-brother from her stepfather. Augie grew up on the west side with her mother, who was an actress turned filmmaker later in life. Her father and stepmother are both therapists. Her stepfather was an Emmy-nominated writer for Letterman and Carson and wrote successful movies such as Bad Boys, Oscar, and many more. Augie Duke is very close to her family and is so proud of all of them.
2. Augie did her first Commercial at four years old.
When Augie was little, and her mom was still doing commercials, a friend of her mother's needed kids for a commercial starring Debbie Gibson. So Augie and her brother Oliver were featured in their first commercial when they were just little kids. But actually, before any of that, at the tiny age of one, Augie was on the cover of TV Guide as a baby for the 'Movie of the Week.' When Augie was little, she had a wide imagination, and she would play make-believe with her dolls and books in her room, creating elaborate stories, which is when the bug for performing all began. She was soon signed up at the local theater in her hometown, where she did numerous plays as a child.
3. Augie signed with her first agent at 18 years of age.
When Augie was 18, she signed with her first commercial agent, Michelle Henderson, with HRI (who her step-brother, Max Barrie, was also signed with), and who she is still signed with to this day. While young, Augie was initially battling stage fright and felt commercials would be a great way to ease her into the business. She has always retained a little anxiety with auditions since the beginning of her career. But she found a way to deal with it and use it to her benefit, slowly working her way into the theatrical department and signing with Tanya Kleckner, also at HRI. Augie is fiercely loyal and has always believed in her team.
4. Augie directed her first film two years ago.
Augie has always secretly wanted to direct, and with the major help and push from her mother–who wrote the script–decided to direct her first short. The short film is about a young teen discovering her identity and trying her first cigarette. It went on to win "Best Micro Short" at Chain Film Fest New York and the Studio City Film Festival. The second time she directed was a music video by the girl punk band Egg Drop Soup–the music video was titled "Swamp Ass." Her third directing job was very recent. The Director of Photography on the music video "Swamp Ass," Dexter Wandel, called her up to ask if she was interested in directing a dark comedy short film written and produced by two talented women, Jesseca Lynne and Truly Murphy.
5. Augie has just had her first child.
Augie and her boyfriend, Michael Reed (who also starred in the film 6:45), just had their first child together. Augie says, 'There's nothing quite like a life growing inside of you. I was so in love even when I hadn't met him yet.' This is her parent's first grandbaby, and they couldn't be more excited. Michael and Augie have been together for six years –they fell in love on the set of a film they both starred in, Wild Boar, directed by Barney Burman. They also have one dog named Pip and two cats, Teeka and Charmander. Augie is also an animal freak; she loves all animals and is a strong advocate for animal rescue and no-kill shelters.
Tell us what's wrong with this post? How could we improve it? :)
Let us improve this post!